Hurricane Fiona becomes a category 3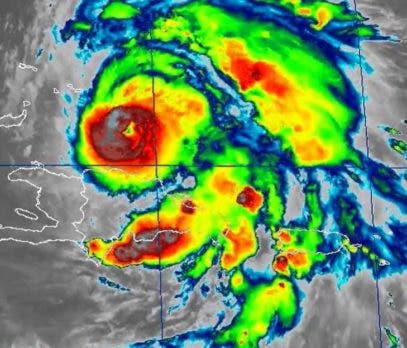 Fiona has become a Category 3 hurricane; its maximum winds are 185 kph with higher gusts. It is the first major hurricane of the 2022 Atlantic hurricane season.
According to the report of the National Meteorological Office (Onamet), at 6:00 A.M. this Tuesday, the center of Fiona was located near latitude 21.5 north and longitude 71.0 west, about 30 km southeast of Grand Turk island.
It indicates hurricane-force winds extending about 45 km off its center and storm-force winds about 240 km. Fiona is moving north/northwestward at about 17 kph, and its center will continue to move away from the country.
The Onamet adds that weather conditions in the Dominican territory will continue to be dominated by a large and compact cloud field associated with Hurricane Fiona that covers the entire country.
It is forecast that for the next 24 to 36 hours, moderate to heavy rains will continue to occur, becoming intense at times, thunderstorms and occasional wind gusts, especially over La Altagracia, El Seibo, La Romana, Hato Mayor, San Pedro de Macorís, Monte Plata, Samaná, Sánchez Ramírez, María Trinidad Sánchez, Duarte, Espaillat, La Vega, Villa Altagracia, Monseñor Nouel, Greater Santo Domingo, San Cristóbal, Peravia, and Santiago, among other provinces.
The entity adds that the swell will continue to be abnormal on the north coast, northeast, and points of the southeast. Waves are expected to range from 10 to 14 feet in height with higher breaking waves, which could reach up to 18 feet. Be on the lookout for the possibility of coastal penetrations in low-lying areas.