Hurricane Fiona leaves one dead and 12,485 displaced in the country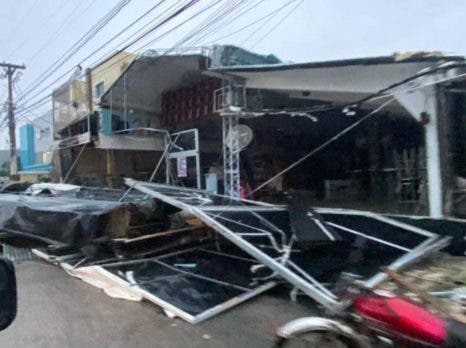 The greatest effects of the phenomena were in the province of La Altagracia.
One person dead, 12,485 displaced, 1,047 sheltered, 2,954 houses affected and four destroyed, two communities cut off from communication, and four bridges collapsed, had left until last night the passage through the country of Hurricane Fiona, informed last night the Emergency Operations Center (COE).
At the head of a press conference, Juan Manuel Mendez, director of the organization, said that the deceased is Isidro Odalis Smith, 68, who was crushed by a falling tree in an event that occurred in the Matancita community in Nagua, Maria Trinidad Sanchez province.
In its latest bulletin, the COE reported that 128 branches of electric circuits are affected, leaving 709,272 users without power. The emergency agency indicated that 73 aqueducts are out of service, and three are partially affected, leaving 1,151,384 people without drinking water.
Major damages
According to the COE report, in San Pedro de Macorís, 1,500 houses were affected by the strong winds; 700 in La Altagracia, four were totally destroyed, and 457 were partially affected.
In Sánchez Ramírez, 40 people were sheltered; in Duarte province, the communities of San Felipe and Buenas Vista were cut off due to the flooding of the Cuaba river.
In María Trinidad Sánchez, there are five people sheltered in the Francisco María Vásquez School and 16 in Nagua Campo Club.
Rains will continue
Despite the fact that Fiona is outside the national territory, the National Meteorological Office (Onamet) predicted that the cloud fields left by the phenomenon will cause rains and thunderstorms to continue until midday this Wednesday.
The weather forecasting agency indicated that rainfall would be more intense in the eastern plains, the northeast, southeast, north, and the Central Cordillera. Meteorology predicted that showers would reach up to 300 millimeters of water at isolated points.
Hurricane moves away
Last night Hurricane Fiona was located 64 km north of Cabrera, in María Trinidad Sánchez, with maximum winds of 155 kph. Onamet assures that its center continues to move away from Dominican territory.
Meteorology said that the swell would continue to be abnormal, especially on the north coast, northeast, and southeast points, with heights between 10 to 14 feet, which could reach up to 18. It also asked to be vigilant for the possibility of coastal penetrations of the sea at low points.
Regarding temperatures, Onamet predicted that they would remain hot, with the maximum between 29 °C and 31 °C and the minimum between 22 °C and 24 °C.
Greater Santo Domingo will be cloudy with moderate to heavy rains, thundershowers, and intense wind gusts.
The country remains under alert.
The COE maintains on alert all the provinces of the country and the National District due to the floods experienced by rivers, streams, and creeks and for possible landslides and for those that could occur elsewhere.
In this regard, La Altagracia, La Romana, El Seibo, Hato Mayor, Samaná, and Espaillat remain on red alert.
In yellow are Puerto Plata, Santiago, La Vega, Monseñor Nouel, Duarte, Hermanas Mirabal, Sánchez Ramírez, María Trinidad Sánchez, San José de Ocoa, San Cristóbal, Monte Plata, Santo Domingo and the National District.
The COE put Montecristi, Santiago Rodríguez, Valverde, Dajabón, Elías Piña, San Juan, Bahoruco, Independencia, Pedernales, Barahona, Azua and Peraviaunder green alert .