Population faces risks of diseases due to Fiona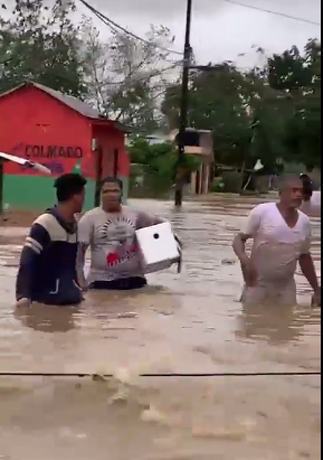 There is a risk of diseases due to exposure to contaminated water. file/ld
Santo Domingo, DR
Contagions and outbreaks of leptospirosis, gastric and respiratory diseases, and increased dengue and malaria are among the principal risks of diseases that could affect the Dominican population due to the floods and accumulation of rainfall left by Hurricane Fiona as it passes through the country.
The country has experienced outbreaks of these diseases, which have caused deaths and pressures on medical attention, after the passage of atmospheric phenomena, as occurred in 2007 with storms Noel and Olga, which generated more than 100 deaths and over 1,000 cases of leptospirosis, a disease transmitted by contact with contaminated animal urine, especially rats.
The floods and rains left by hurricanes Maria and Irma during 2017 also left outbreaks and increases in cases and deaths from leptospirosis and dengue, as well as cases of diarrheal and respiratory diseases that increased hospital demand, especially in the most impacted provinces.
Increased vigilance
Given the impact of Hurricane Fiona, especially in the provinces of La Altagracia, El Seibo, Hato Mayor, and Samaná, but with rainfall in other areas of the country, the National Director of Epidemiology, Ronald Skewes, informed that epidemiological surveillance had been increased in the general population and shelters.
He emphasized that the surveillance is carried out against diarrheal events due to the consumption of contaminated water; those transmitted by vectors such as dengue and malaria, which tend to appear after the rains, and leptospirosis, which can affect as a consequence of floods.
He said that teams from the different Provincial Directorates and Health Areas are on the streets nationwide in prevention work and visiting shelters to avoid the emergence of disease outbreaks in those places where people living in vulnerable areas are taken.
Suggestions
Among the recommendations made by health authorities to the population are to avoid swimming and walking in water that may be contaminated, as well as contact with water, mud, and vegetation that may be contaminated with urine, especially when the person has erosions or wounds.
Also, using adequate means of protection, such as plastic boots and gloves, when exposed to water or mud is necessary; avoid the accumulation of garbage, clothes, and old papers in and around the house, and always eliminate the presence of rats in dwellings and common or recreational areas.
In addition, wash canned food, juices, soft drinks, and other containers before consuming them; redouble hygiene both at work and at home; protect drinking water; and if it is not potable, it should be boiled before drinking it and wash hands after going to the bathroom and before each meal.
Other recommendations made by the Ministry of Public Health in times of epidemiological alerts due to natural phenomena are to cook food and wash fruits and vegetables before eating them; cover stored water well, and clean the surroundings of homes to avoid the accumulation of water that after the rains become breeding places for the mosquito that transmits dengue fever.
Going to the doctor
They also urge the population to go to the doctor in case they have suffered any injury or wound or have symptoms of illness and to avoid self-medication.
Leptospirosis is a disease caused by a bacterium transmitted to people through skin contact, especially if there are wounds or lesions, with urine from contaminated animals. Among its main symptoms are fever, chills, headache and muscle pain, vomiting, diarrhea, abdominal pain, and yellowing of the skin and eyes. It is highly fatal if not treated in time.
Keys
Transmission.
Mosquito bites transmit dengue and malaria; their first symptoms are fever and general malaise. In addition to the sudden onset of fever, in dengue fever, the person may experience nausea, vomiting, rash, and pain in the eyes, usually behind the eyes, muscles, joints, or bones.
Malaria.
Symptoms and signs of malaria include fever, chills, headache, nausea and vomiting, diarrhea, and abdominal and muscle pain.