Residents in Los Obispos de Higüey lost everything due to hurricane Fiona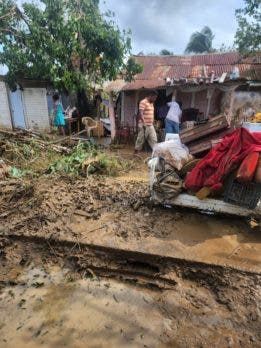 Residents of Los Obispos neighborhood in the municipality of Higüey, La Altagracia province, who yesterday had to leave their homes because of the water and today cannot enter because of the mud, assure that they lost all their belongings as a consequence of the passage of hurricane Fiona through that area.
Photo courtesy: External source.
After the passage through the province of La Altagracia of the atmospheric phenomenon, which is currently reaching the Turks and Caicos Islands as a category three hurricane, the flooding of the Duey River flooded the houses of the inhabitants of this and other sectors, forcing them to contemplate the loss of all their belongings, without being able to do more than resign themselves and wait for humanitarian aid.
The water level of the Duey River began to drop this Tuesday morning, leaving behind the debris and battered belongings of the citizens who had to leave their homes to protect their lives.
It is expected that President Luis Abinader and other officials will visit the area, declared yesterday as a disaster and emergency zone, to bring aid and support to those affected; however, so far, the authorities have not specified if the aid they will bring to the eight provinces in emergency situation includes assistance for the intervention of homes and replacement of belongings for all those who have lost everything.
According to reports, Hurricane Fiona has so far claimed the lives of two people and displaced 12,485 people, while another 1,047 are still in refugee shelters. Another 709,272 have no access to electricity, and 1,151,384 lack drinking water, according to the preliminary assessment of the damage caused by the phenomenon.