Two new phenomena make their way through the Atlantic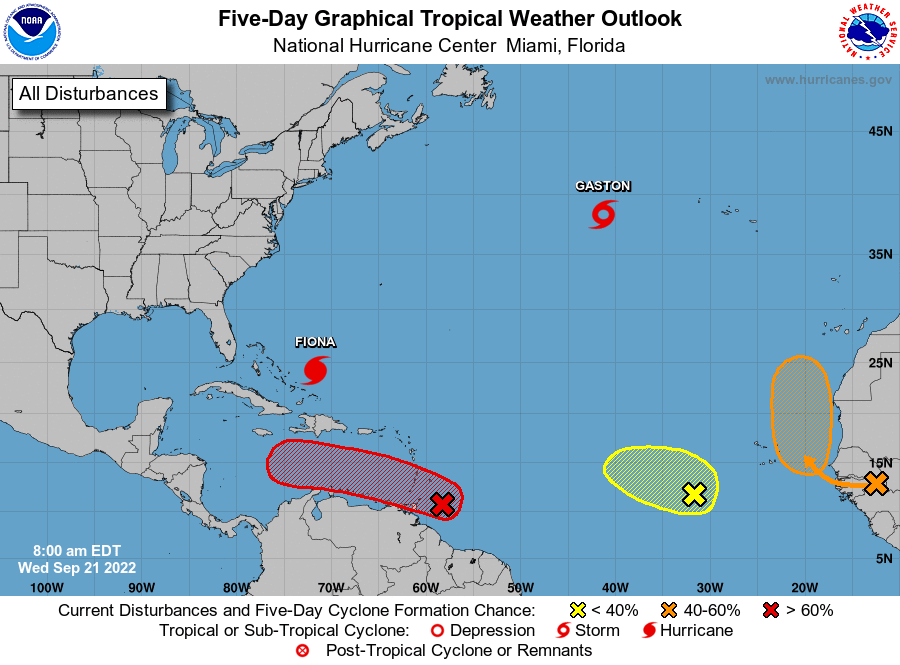 Photo Source: NHC (National Hurricane Center)
Hurricane Fiona is no longer the only natural phenomenon that moves through the Atlantic Ocean and attracts the attention of meteorological agencies for its strengthening. Two other atmospheric disturbances are monitored by the National Hurricane Center (NHC), including one identified as Storm Gaston.
According to the National Meteorology Office (Onamet), Gastón formed yesterday at 5:00 in the afternoon, and is located at latitude 34.7 north and longitude 44.4 west, about 1,595 km west of the Azores. The storm is moving northeast at about 17 mph (28 km/h) and this motion is expected to continue for the next 24 hours.
Its maximum sustained winds are estimated at 65 kph with higher gusts and its tropical storm winds extend to 110 km/h outside of its center. Regarding Gastón, the predictor of Onamet, Christopher Florián, indicated that he does not represent a danger for the Dominican Republic.
Another phenomenon detected is the tropical wave a few hundred miles east of the Windward Islands, which, according to the NCH, continues to show signs of organization. It reported that further development is expected and it could become a tropical depression in the coming days as it moves west and west-northwest at 15 to 20 mph across the eastern and central Caribbean Sea.
Source: Listin Diario