Abinader promises help to Samaná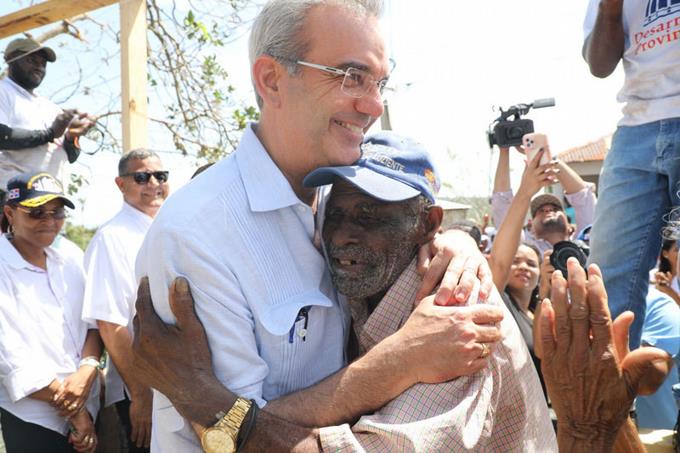 President Luis Abinader greets a resident of the Samaná province, where he verified Fiona's damage.
Las Galeras, Samaná, DR
President Luis Abinader visited the municipality of Las Galeras, Samaná province, yesterday, where he met with farmers and local authorities. He assured that no family affected by Hurricane Fiona would be left without a helping hand from the Government.
The president said that this is a time for the nation, for the country and that everyone must work together. "And not a single house will be left without being restored, I guarantee it," he said.
The head of state announced that he deposited RD$2 million to the municipality of Las Galeras to assist those affected and asked the residents to be patient until the necessary help arrived.
The president promised that at the weekend, they would begin a special reconstruction day, covering every corner of the province, with all officials and personnel distributed in each place to ensure no one was left out.
He said that the journey covers a total of 8,300 homes, of which 5,500 correspond to the eastern zone and 2,800 to the northeast, in a tripartite manner, with the participation of municipalities, State institutions, and neighborhood councils.
Protocol for aid
Abinader explained that to carry out the work with the materials that will arrive, such as wood, nails, and zinc, a protocol had been drawn up which involves the participation of the city council, civil society, neighborhood councils, the affected people themselves, and government personnel.
The governor pointed out that up to now, the electricity service has been reestablished to a great extent and that they expect that in about two days, it will be finished in its totality.
He highlighted the presence of the director of INAPA, Wellington Arnaud, who said he is present to bring solutions and ensure the restoration of everything related to the water issue.
He highlighted the help offered by the Dominican-French community and added that the French Development Agency is the one that has collaborated the most with the Dominican Republic.
Abinader informed that ten technicians are already working on the survey of those affected in the agricultural sector. As a result, it has been determined to restructure the payment of the current loans with the Agricultural Bank with up to seven years' terms and zero interest.