Punta Cana Airport receives eight million passengers a year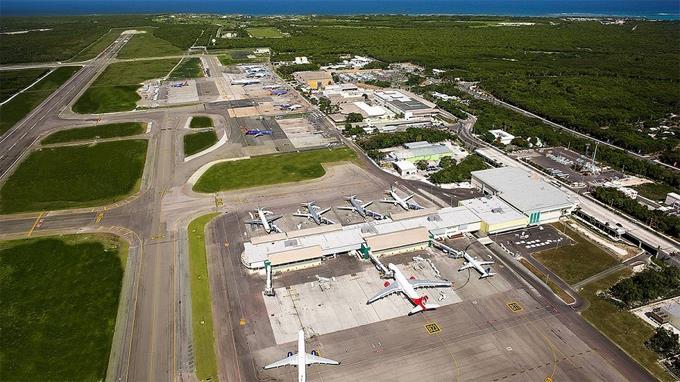 Aerial view of Punta Cana Airport. Photo: external source.
Complying with the demanding international parameters, mobilizing more than eight million passengers per year, and ample growth availability, Punta Cana International Airport is reaching its 39th anniversary. It consolidates itself among the world's most modern and original terminals on its way to becoming an 'Intelligent Airport' or 'Smart Airport.'
Its characteristic, from 1984 to 2022, has been to grow and to do so steadily with significant expansions such as those of 1986, 1999, 2009, and 2014, when Terminal B was built. At each stage, it adds innovative elements such as a children's play area, cargo areas, connecting walkways, runway extensions, or cab way.
With two runways of 3,100 square meters, the terminal allows for the landing and takeoff of 60 aircraft per hour and the movement of passengers to 27 gates. Availability for 30 ground units and 30 positions. Terminal A received seven million passengers, and Terminal B averaged six million last year.
Punta Cana Airport generates 500 direct and 7,500 indirect employees hired by the airlines, tour operators, government personnel, cargo, and airport security. The daily average of flights is 70 to 75 aircraft, totaling 500 flights per week, while the busiest time at the terminal is between 11:00 am and 3:00 pm.
The administrator of the Punta Cana Airport, Alberto Smith, maintains that Frank Rainieri's vision in conceiving and projecting it was as accurate as the plans of his son, Frank Elías Rainieri, to expand and diversify it into a free zone of worldwide impact.
He refers that its growth and expansion slowed down during the pandemic but always continued in its planning, a feat that has allowed it to remodel its VIP lounge by the famous designer Adriana Hoyos, areas of baggage straps, checks, and identification.
It has a modern swimming pool in Salon B, with a beautiful view of the runway, amenities, and princely attentions, where towels and bathrobes are provided for bathing before boarding and particular areas for children to play and have fun.
Great project
And the energy of the Punta Cana Group is specific, based on trust and faith in God, so the construction of a Free Zone Park will serve as a logistics center for the region in terms of fuel supply and maintenance of cargo aircraft.
The ambitious project has an area of 750,000 square meters and an investment of US$200 million as a great bet, which will place the terminal among the most original, modern, and productive in the world.
Smith refers that it will add 20,000 new jobs, and its development in 20 years, perhaps less, will reach its maximum production. In addition, the project will consolidate the terminal as a favorite center for fueling cargo ships and have areas for repacking, invoicing, administrative offices, and international business.
Intelligent airport
Safety, good treatment, and speed go hand in hand with modernity. The acquired high-cost equipment, contracted to CITA, the largest airport supplier in the world, provides facilities to the travelers from the moment they arrive at the terminal until they board the aircraft, which has been achieved without risks or surprises, due to the modern security and surveillance equipment, according to Listín Diario journalists during a tour with Adolfo Rodríguez, operations manager of the airport: Adolfo Rodriguez, Operations manager of the Terminal and Francina Herasme, of Communications.
Processes which used to take 10 minutes have been reduced to eight seconds, like the scanning of the passport at arrival and departure, facilitating the work of Migration and Customs which, although done by government personnel, the millionaire investor in the modern equipment has been made by the Punta Cana Group, determined to make more pleasant the stay of the tourists who visit the country, who sit in the airport, as a continuation of the luxurious hotel.
The investment of US$12 million has led to a transformation, incorporating modern machinery and processes, one of which has replaced the uncomfortable searches with the 'Checkpoint,' modern CTX (baggage scanners) that detect explosives, narcotics, money, and organic food; which joins the team of 27 trained canines for internal detection work.
Last week, seven German Shepherd dogs were donated, which are used as favorites in detecting unauthorized cargo, together with the Velga Shepherds, performing an efficient job under the care of specialized personnel.
A benchmark
As a result of these innovations, other terminals have copied its facilities, which have earned international recognition for their efficiency and the anti-Covid-19 measures adopted; achieving the first positions, taken into account by the entities that monitor airports worldwide, by region, passenger volumes, times and satisfaction.
With special flights to various destinations, its most common routes are Madrid, Toronto, New York, Frankfurt, Miami, Bogota, and Lima. A tour of its interior shows paintings, photographic sequences, and original decorations with typical samples of the country, for which the Customer Service department of schools takes the opportunity to visit it for educational purposes, as does the San José de Higúey high school. At the same time, IDAC personnel give frequent courses and training to personnel assigned to the terminal.
Cargo Hub
The Punta Cana International Airport has two other areas available that could handle the same amount of passengers, it is growing beyond its needs, so it is on its way to becoming a Cargo Hub in the region with availability to meet the needs of the Multimodal Caucedo port, Guatemala, Ecuador and other places that will reduce costs by this route.
For September, it has already exceeded 12% of the operations of 2018, which is taken as a parameter of a good year, which indicates the upward graph and the modern vision of the Rainieri family that has made this terminal is compared in modernity, quality, and satisfaction with those of; Singapore, Qatar, and Atlanta, world leaders in air navigation.