Tribute to the Virgin of Las Mercedes today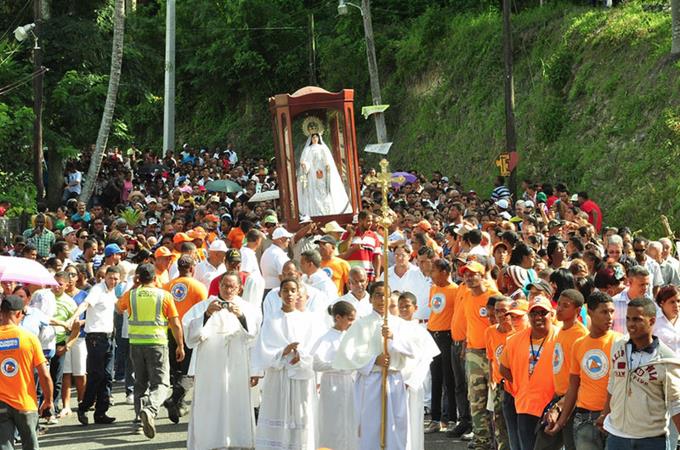 It is estimated that thousands will attend the rally.
Santo Domingo, DR
Since yesterday afternoon, thousands of Catholic parishioners have been preparing to participate in the liturgical ceremonies of the national solemnity of the Virgin of Las Mercedes, chosen as patroness of the Dominican people in the first years of colonization of America.
At the end of Friday afternoon, a large concentration of pilgrims, coming from different towns of the country, mainly from the Cibao region, arrived as every year in the vicinity of the national Sanctuary of the Santo Cerro to participate in the evening celebrations and the prayers of the rosary to the Virgin at midnight.
It has been a custom for more than three centuries for the Catholic faithful to go in procession to the place that was baptized as the "Santo Cerro" by Admiral Christopher Columbus after the Spanish colonizers emerged victorious from a battle with the Taino Indians, an event that Columbus and his soldiers attributed to a miracle of the Virgin of Mercy.
The place became a sanctuary on March 24, 1494, after Columbus planted a large cross on the top of the hill, made from a medlar tree, which could be seen from the entire valley of La Vega Real. The first sanctuary church on the Santo Cerro was built in 1884.
Background
At the beginning of September, unknown persons on a motorcycle killed Misael Luciano, known as El Secre, in the Los Ciruelitos sector. To date, no one has been arrested for the case.
Solemnity
The acts of the Solemnity of Las Mercedes will begin this Saturday, September 24, at 5:00 am, with a first mass officiated by Father Porfirio Espinal, rector of the Sanctuary.
Five more Eucharists will be celebrated: 6:30 am, 9:00 am, celebrated by the bishop of La Vega, Monsignor Héctor Rafael Rodríguez, and 11:30 am officiated by Monsignor Antonio Camilo, bishop emeritus of La Vega.