Revealed: 12 year old girl died from poisoning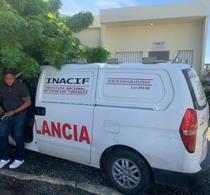 Monte Cristi, DR
Two months after the strange death of 12-year-old Elyury Garcia Morrobel, who, according to the first version, had been exercising and upon returning home suffered a fainting spell, an autopsy has now revealed that her death was due to poisoning.
This new version totally changes the story of the death of the teenager, which occurred last July 25 in the El Campamento sector of the municipality of Las Matas de Santa Cruz.
After a request from her paternal grandfather Pascual Garcia and the doctors who attended the girl when her relatives took her to the public hospital of Las Matas de Santa Cruz, an autopsy was performed on the corpse, which revealed the real cause of death of the 12-year-old teenager.
According to the results offered by the Instituto Nacional de Carencias Forensics (Inacif), a document signed by Dr. Sandra Luciano indicates that "The cause of death of Elyury García Morrobel was due to "intoxication by pesticide," using the qualifier of "violent death."
According to the document issued by the official entity.
Also, according to versions gathered at the scene, the teenager lived with her paternal grandfather Pascual Garcia since her parents had been separated for several years, and he had the care of his granddaughter.
The legal representative of the García family, paternal of the deceased, Juan Carlos Genao, states "that we must wait for the public prosecutor's office of the province of Monte Cristi to do its job, to start the corresponding investigations so that this case does not remain unresolved, and that those responsible for the death pay for what they did," said the lawyer.
Event
Inquiry.
Autopsy reveals death by poisoning of a 12-year-old teenager, Elyury Garcia Morrobel, which occurred in Las Matas de San Cruz, in Monte Cristi.
One month later.
While the pain and sorrow returned to the relatives of Elyury Garcia Morrobel one month after her death, after the causes of death of their relative were scientifically revealed.