How Coco and Pioli survived: The story of a man who lost it all to Fiona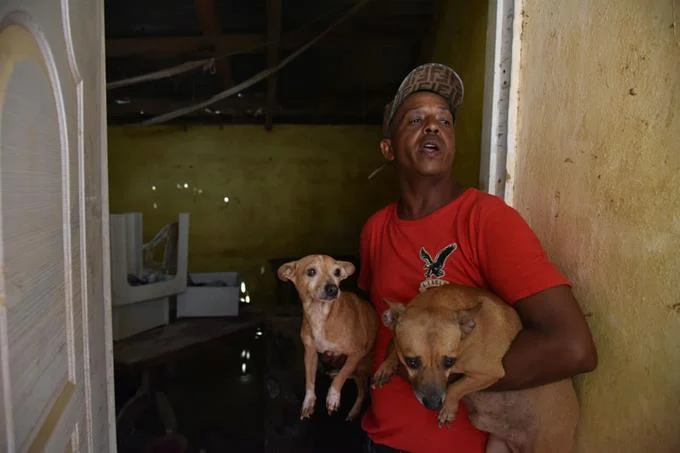 Photo Source: Listin Diario
Due to Hurricane Fiona's powerful winds and flooding, Elvis Carpio's modest home on Lorenzo Sánchez street in Higüey's Los Platanitos neighborhood lost all of its possessions. Nevertheless, despite going through a sad, vulnerable, and dangerous situation, he feels pride in having saved his family and his two Chihuahuas.
According to Listin Diario, with the dogs positioned on either side and him looking visibly excited, he had no idea how this atmospheric phenomenon would affect his neighborhood.
When Carpio saw the area of heavy water in which he had earlier put his small animals in the belief that they would remain safe, he said, "My dogs drowned." He assumed that there was little hope of finding the dogs alive after seeing reality and seeing the devastation caused by the typhoon.
"I didn't realize the river would expand in that way, so I left my dogs at home and brought my family outside. When I returned, I observed the surroundings and could hear Coco and Pioli barking in the distance. I was finally able to breathe when they were on top of some furniture, he protested.
After Fiona passed through the northwest of the country, Carpio claimed to feel calmer knowing that his pets are unharmed despite the disaster situation he is in. He claims that the water washed away his daughter's PC. Carpio, his wife, and their daughters reside in house number 33, but due to the Duey River's dramatic rise, they lost everything.
With the exception of the computer that the Ministry of Education handed to one of his children and ended up underwater, he said he is not bothered about the material losses.