Tanks and military deployment in Dajabón monitor the development of the binational market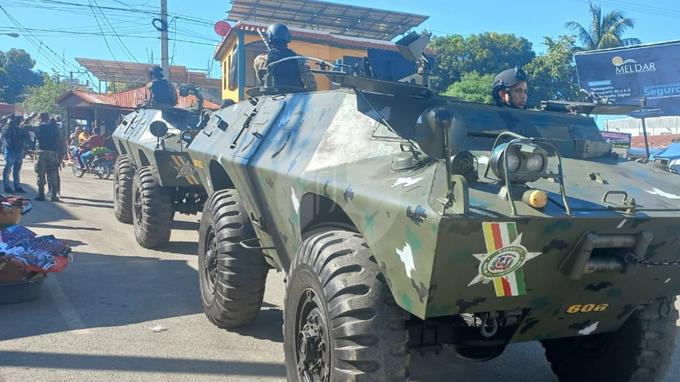 Tanks and military deployment in Dajabón.
Dajabón, DR
The Dajabón border market is being held this Friday in calm and under close military surveillance, including tanks and dozens of heavily armed soldiers, after the incidents that occurred yesterday in the Codevi free zone, in Juana Méndez, on the Haitian side.
Haitians residing in towns near the border with Dajabón are crossing, buying their food, and returning to their country.
Although there are fewer buyers than on other occasions in Cap Haitien, residents fear the road will be closed on their return route when crossing into Dominican territory.
Juana Mendez's Haitians say that the situation is calm in their town.
Tanks circulate in the periphery of the market. Colonel Rosario Perez commands the members of the Dominican Republic Army.
Commander Rosario Perez said everything is calm on the Dominican side and that vigilance is reinforced to avoid any situation. They are alert and guarding the Dominican territory.
On Thursday afternoon, a group of Haitians violently broke into the installations of the Industrial Development Corporation (Codevi), located in Juana Mendez, on the border with Dajabon, causing damage to essential parts of the structure.
The management of the industrial park ordered the dismissal of the personnel "due to the entry of unscrupulous persons, with the purpose of provoking disturbances."