Inapa and Pucmm will educate about water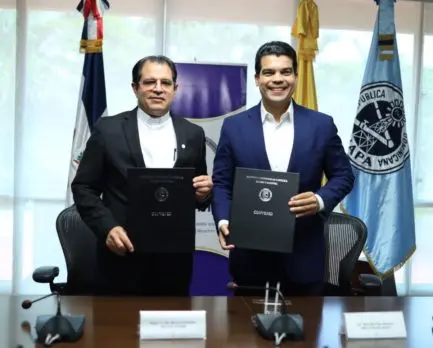 The executive director of the Instituto Nacional de Aguas Potables y Alcantarillados (Inapa), Wellington Arnaud, and the rector of the Pontificia Universidad Católica Madre y Maestra (PUCMM), Reverend Secilio Espinal Espinal, signed a collaboration agreement to develop training programs, applied research projects, and collaboration in the dissemination and awareness of water resources.
Through the agreement, both parties are committed to carrying out projects aimed at strengthening the drinking water and sanitation sector.
For his part, Arnaud said that the Dominican Republic currently has a public policy on drinking water and sanitation led by President Luis Abinader, which did not exist before.
The official also said that these agreements for the strengthening and acquiring skills by the institution's collaborators are fundamental to facing the future.
Meanwhile, the rector of the Pucmm, Secilio Espinal, said that the academy is committed to the training of professionals and human resources demanded by the development process the country is going through.