Tourist transport companies will be recertified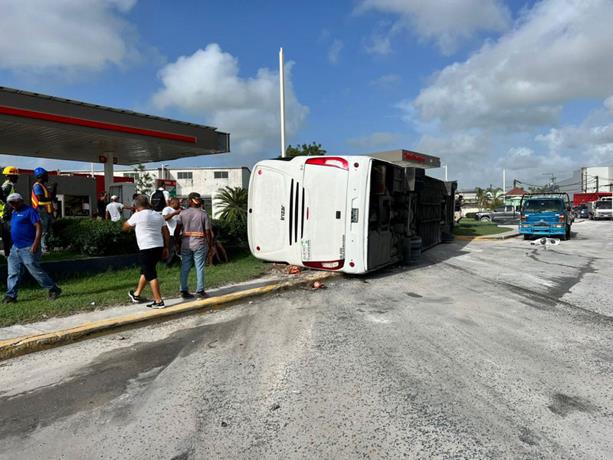 Onlookers and rescuers present at the scene of the bus accident full of tourists, three of whom died and more than twenty were injured. /
Santo Domingo, DR
The director of the National Institute of Transit and Land Transportation (Intrant), Hugo Beras, informed that a process of recertification of all the companies that provide tourist transportation services has begun to create a Tourist Transportation Control Center.
This is known a few hours after last Thursday's traffic accident on the Boulevard Turístico del Este in the community of Bávaro, which has left, so far, three tourists dead.
"We, from Intrant, have been taking measures in relation to this issue. We are in a process of evaluation with the licenses, with the requirements, of those who can provide these services in order to have more controls," he added.
He said, "we are doing it with cargo transportation, which we are applying with technology to detect any type of situation such as speeding or recklessness, among other situations, and we will replicate this same model with the tourist transportation service."
He indicated that a Control Center is being set up for this area and that it would be joint work with the Ministry of Tourism to prevent these accidents from happening.
Intervention on the highway
On the other hand, Beras pointed out that they have an intervention team "because they are evaluating the reason for the accident" to immediately "implement the actions that will not allow another similar tragedy to happen again."
He indicated that a quick response is needed when faced with an accident while the Tourist Transportation Control Center process moves forward.
"Punctually, in the subject of the crossing (Domingo Maíz, place of proximity of the accident), we are intervening with speed reducers and everything that is needed, and we are also taking advantage to intervene other crossings and points, that is what we are working on, and in the next hours we will see the result of that intervention," he assured.
He also added that it is not a reaction that had to be done and was not done, necessarily, "it is that an accident is giving a series of data or information on how it can be corrected so that it does not happen again for the same reasons or causes… this goes in the physical area, but in the area of driving, of the vehicle, which from what we see in the video was speeding, we are already taking actions such as the recertification of that sector."
Listín proposal
Following the proposal made by Listin Diario to create a "vehicle safety program for tourists," installing mandatory electronic devices in each bus, previously certified to operate, to monitor their speed and routes,
Beras said these are part of the actions he is taking.
"A large part of what the Listin Diario editorial proposes is part of the actions that we are already implementing with the issue of technology, GPS, speed control, inspection and other actions," he said.
Short term measures
Actions.
Hugo Beras declared to reporters of Listin Diario, regarding the measures in place, that "we want to be very clear that, in a very short time, due to the actions we are taking, this type of situation will not happen again."