Fire reported in an Edeeste power substation in Gazcue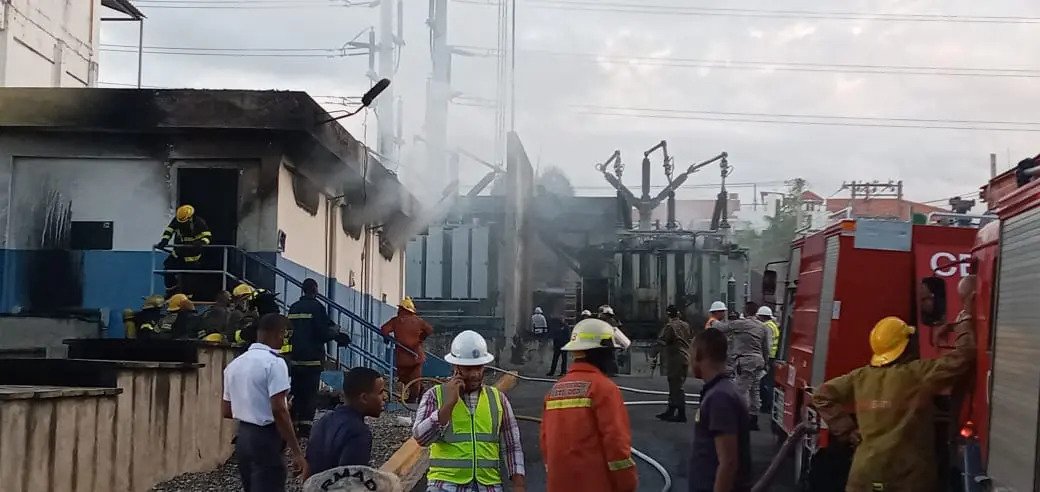 Source: unknown
At least eight circuits, including the one that supplies energy to the Presidential Palace as well as different areas of Greater Santo Domingo and Haina, were left without power as a result of a fire at a substation in the Gazcue sector of the National District. Twelve fire vehicles and two ambulances from the 9-1-1 emergency system responded to the area after the fire in the transformer started, putting out the fire and providing assistance to the nearby people who were harmed by the smoke. The smoke and flames that burned the power lines were escorted away from the elderly residents of a hospice that was situated in front of the electrical substation for concern that it would spread.
The National Palace was left without power for two and a half hours, and until the services in Gazcue were restored, it needed to be supplied by an emergency substation. No one was harmed or lost their lives as a result of the tragedy, and there were no reported injuries either.
This is how some of the areas affected by the fire reported at the Avenida César Nicolás Penson substation in the Gazcue sector spend the night on Monday: under the scant flashes of the headlights of the cars that travel through its streets and the light bulbs of some homes and businesses that cling to inverters and plants to stay lit. Through a trip conducted in this way, it was possible to confirm how certain portions of Gazcue, Miraflores, and Don Bosco consistently lacked electricity due to the fire, the causes of which have not yet been determined.
Many people made the decision to seek shelter in their houses early before the service was interrupted, which left the night in a special darkness without lamps illuminating the roads. This is the story of Jess, a security guard for a government agency who claimed he couldn't wait to get home before nine o'clock. Although a plant's energy was used to keep the institution he works for well-lit, he was afraid of the darkness in the area.
He stated that they are using the substation of the Autonomous University of Santo Domingo (UASD) to be able to supply the center of the government offices with electrical energy in regards to the delivery of electricity in these impacted circuits. "Right now, we are generating our base load from the UASD substation to be able to serve the entire center of the government offices and we are conducting more studies with the network, Edesur, and other firms to be able to supply the missing circuits."
Portes added that they had "another 50 mega transformer available and we are looking at the option of putting either a mobile substation or another transformer of the same category, in order to supply energy as quickly as possible." The substation was not entirely damaged, he added. missing".