Two Haitian gangs go to war and kill 12 on the first day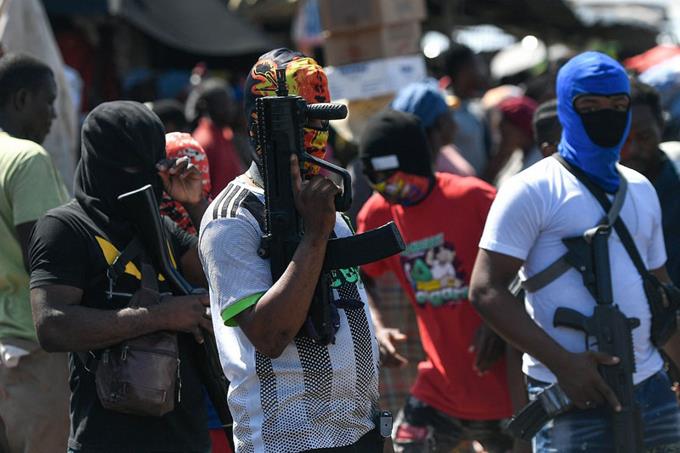 The sanctions applied against Haiti's armed groups, which control large areas of the country, include important infrastructure and communication routes. /afp
Santo Domingo, DR
A few hours after the United Nations Security Council approved a measure of sanctions against armed groups in Haiti, two of the most dangerous gangs in the country declared war on each other and killed 12 in an attack.
They are the "Vitelhomme" and "400 Mawozo" gangs, as well-armed as they are bloody, who have resolutely opened a battlefield, day and night, in the commune of La Croix-des-Bouquets, located in the district of the same name, in the West department.
Both sides, once close but now enemies to the death for the control of territory, have a long list of the dead.
As a result of this confrontation, entire families have been forcibly displaced and are seeking refuge in other localities.
Yesterday, almost a dozen people were shot late in the afternoon, and several were wounded when several individuals on board a vehicle attacked a group at the bus station linking Croix-des-Bouquets and Mirebalais in Bon Repos.
The general situation in that town is deteriorating so progressively and dangerously that it has set off alarm bells among the inhabitants.
According to Haiti 24, the inhabitants of districts such as Rue Falaise and Nouailles are abandoning their homes to seek refuge with relatives in other municipalities.
The ongoing war between these two Vitelhomme gangs is affecting the daily life of the citizens of Croix-des-Bouquets. They, according to witnesses, are also victims of the onslaught of these gang groups.
One young woman commented that she, along with her sisters and other family members, had to leave their home.
Gunfire prevents sleep
"Since last night the gunfire has prevented us from sleeping. In Nouailles, members of the Vitelhomme gang set fire to several houses during the night of October 20-21. Last Tuesday they killed seven (7) people," said a neighbor.
"We are forced to stay at home, under our beds. It is total chaos. We are alone," said a septuagenarian.
Over the past few weeks, the Vitelhomme gang has launched attacks against "400 Mawozo".
Croix-des-Bouquets inhabitants are "paying the costs" of this battle, which has already caused several deaths.
Crime in Petion-Ville
Activist Jean Denis Joseph, who often participated in protest movements in Pétion-Ville, was shot dead by unknown persons there.
The victim was present during the protest movement, where Magalie Habitant, the former National Solid Waste Management Service director, was attacked.
Linda Thomas-Greenfield, the U.S. ambassador to the United Nations, described the resolution adopted yesterday against Haitian gangs as "the first step and a first response to the appeals launched by Haitians."