Chaos in the capital due to floods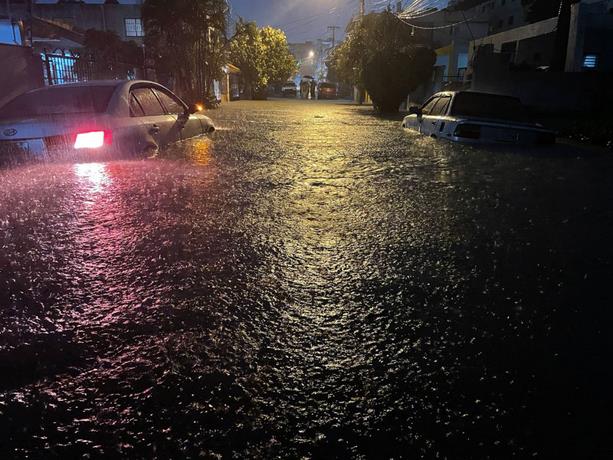 Vehicles were left under water yesterday in streets and parking lots, while traffic jams made it impossible for people to return to their homes. External source.
Santo Domingo, DR
Heavy rains permeated much of the National District and Santo Domingo province during the afternoon last night.
According to reports, the rain began to fall in the Dominican capital around 5:00 pm, with several places becoming impassable due to a large amount of water in the streets.
Likewise, several people on social networks posted videos showing flooded roads and parking lots, with audiovisuals showing how, in some cases, only the tops of the vehicles parked in those places are visible.
Similarly, the rain also caused prolonged traffic jams, as the water flow prevented vehicle passage.
Also, the entrances to some elevated roads were temporarily closed for the same reason.
Likewise, videos posted on social networks showed how several cars parked in the places most affected by a large amount of rain were virtually trapped under the water.
The wait
For citizens without a vehicle, the journey to reach their homes were different, as many sought shelter in grocery stores, food establishments, or shopping centers.
However, some had to expose themselves to the bad weather since one of these shopping centers removed some of those who sought refuge from its facilities, according to a report by journalist Edith Febles.
Measures
That same night, the mayor of the National District, Carolina Mejía, announced the activation of the disaster prevention, mitigation and response committee of the National District due to the heavy rains that have affected several areas of the Dominican capital.
Mejia gave this information through a message posted on her Twitter account. She also indicated that she would coordinate the necessary actions with the Emergency Operations Center (COE) and other government entities.
"We activated the disaster prevention, mitigation and response committee of the National District and we are in permanent session. We will be at the COE coordinating with the other central government institutions the next actions, to return as soon as possible to normalcy," he wrote.
He also announced that the night and emergency brigades of the DNA, the local Fire Department, and the Civil Defense would help to manage the situation caused by the rains.