Influenza appears to be more aggressive on lungs this year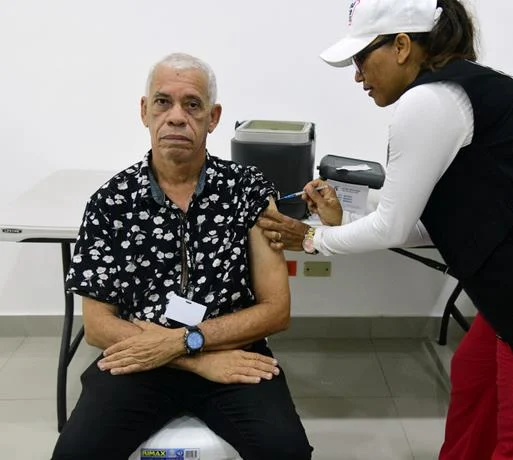 Specialist urges the population at greatest risk to get vaccinated and protect themselves to avoid contagion. Archive / Daily Listin
Santo Domingo, DR
The lungs are observed to be more affected in patients with influenza who come to seek medical attention in the country.
This was revealed to Listín Diario by pulmonologist Evangelina Soler, who explained that the disease affects the population of all ages but with greater emphasis on children and most adults.
She said that compared to 2020 and 2021, this year, there has been a significant increase in cases of influenza in the Dominican population, which she attributes to the fact that in those two previous years, people used masks to protect themselves from Covid-19 and this year they stopped using them.
"In the behavior of the virus, we see different from the years prior to the pandemic is that the cases are with greater pulmonary affection, and there is a higher incidence of cases of people with the virus," said the former specialist president of the Dominican Society of Pneumology and Thoracic Surgery.
The fact, she added, that during those two years, the population was not vaccinated against the virus may be contributing to a more significant increase in the number of cases of influenza.
Earlier
Another big difference we have observed is that previously the highest number of influenza cases occurred between November, December, January, and February; this significant increase has been observed since October.
He recalled that influenza manifests itself with fever, headache and body aches, general malaise, and dry cough; patients are presenting diarrhea or retro ocular pain and compromised upper airways. Occasionally, he said, influenza symptoms are also associated with pneumonia outbreaks.
He urged the most at-risk population to vaccinate and protect themselves to avoid contagion.
The country has available the vaccine against seasonal influenza A (H1N1), A (H3N2), and type B influenza in fixed vaccination posts, which began to be applied on October 10.
The vaccination is being directed to groups at higher risk of complications in case of infection by the virus, such as the elderly, children under two years of age, pregnant women, health workers, and people with primary diseases.
The State has 475 thousand doses which are applied free of charge. Up to the beginning of the week, 53,524 doses of seasonal influenza vaccines had been administered, with the population over 65 years of age being the most vaccinated.
The cases of children with flu increased three times more in the last weeks, had revealed in October by the president of the Association of Clinics and Private Hospitals (Andeclip), Rafael Mena.