Protest alcoholic beverage restriction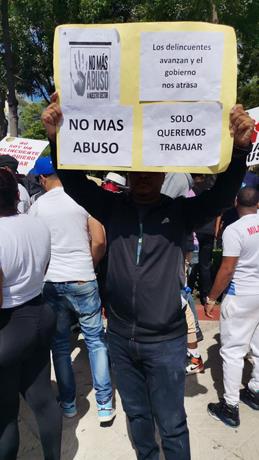 Owners of nightclubs and employees marched yesterday to the National Palace.
Santo Domingo, DR
Stationed yesterday in front of the National Palace were members of the Dominican Union of Nightclub and Entertainment Center Owners (UDCEND), demanding the repeal of Resolution 0072, which prohibits the sale of alcoholic beverages after midnight.
It was 11:00 in the morning when the protesters arrived at the Government House, in a march that began on Venezuela Avenue, to the Ministry of Interior and Police, demanding the lifting of the resolution issued on Monday, November 7.
One of those affected, identified as Gabriela, a waitress at "Opux Lounge," expressed that she is a single mother and is the only breadwinner for her daughter, so this measure directly affects the maintenance of her offspring.
Jean Carlos, a waiter at "Mixer," said he is a father and the breadwinner of his family, so he asked the government to let them work. "We need them to let us work; that's all we ask of the government," he said.
"We want to work; we are not delinquents," said the demonstrators with bugles, drums, and energetic voices, which could be heard launching slogans during the tour while holding banners that expressed: "how we pay the rent," "Christmas with hunger," "No more abuse," "The delinquents are advancing, and the government is holding us back," among others.
Junior González, president of UDCEND, said that the measure affects hundreds of families. "Only in this country do they abuse nightclubs as if we were delinquents," he emphasized.
While the spokesman for the association, Javish Cadena, described the measure as unacceptable since both owners and employees comply with the payment of taxes and the Social Security Treasury (TSS), so they are unhappy with the resolution because if they are not allowed to work, they cannot cover their basic needs.
"The family of these employees who are here, how are they going to go to the doctor and school, the children of each one of us," he expressed.
Truce for a month
At around noon, representatives of Gestión Presidential met with the president of UDCEND and a delegation of this society, as well as Pastor Dio Astacio, who served as a mediator for the parties until approximately 1:30 in the afternoon.
At the meeting, they agreed to a "truce for a month" to wait for answers from the Minister of Interior and Police, Jesus Vazquez, and President Abinader. According to what was agreed, they had called the union's president yesterday to reach a possible agreement.
The measure.
To "curb crime" in the capital, the Interior and Police prohibited the consumption and sale of alcoholic beverages in commercial establishments in several municipalities of the province of Santo Domingo every day from 1midnightuntil 8:00 in the morning.
Consequences.
The managers affirm that the measure affects some 849 nightclubs and about 50,400 jobs.