Interior and Police defend regulation of alcoholic beverages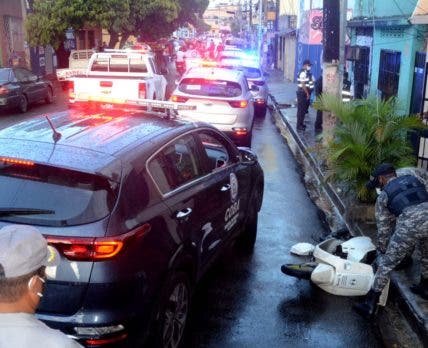 The Ministry of Interior and Police reported yesterday that the province of Santo Domingo has been the scene of numerous criminal acts of public connotation, mostly registered after midnight when the number of homicides in the different demarcations has increased.
It is due to this, according to what he explains in a press document, that he has decided to regularize the consumption of alcoholic beverages in this province of the country, considered one of the largest in terms of population.
According to the most recent statistics available to this entity, as of November of this year, 308 homicides had been registered, surpassing 2020 (236) when the country was closed due to the coronavirus pandemic.
It states that a review of recent years indicates that homicides have been increasing year after year, which is why the authorities are working to control crime and violence, promoting community standards programs for better citizen coexistence.
It says in the document that in 2018, homicides reached 243; in 2019, they rose to 276; and in 2021, they ended the lives of 294 people.
It indicates that the most significant increase in homicides is observed in Santo Domingo East, where in 2021, there were 110 cases, and already this year, there are 108 completed.
In Santo Domingo Norte, crime and violence also hit residents hard, with 51 homicides in 2018, 66 in 2019, 36 in 2020, 73 in 2021, and 94 this year.
Likewise, he specifies that in Santo Domingo Oeste, death has reached its neighborhoods taking the lives of 36 people in 2018 and 46 in 2019; even in 2020, with everything and the pandemic closure, the trend was maintained in this municipality with 43 homicides registered, a figure that was repeated last year, dropping so far in 2022 to 26.
"If we go to the tourist area of Boca Chica, in 2018 28 homicides were registered, 23 in 2019, 21 in 2020, maintaining the trend as in Santo Domingo Oeste, in 2021 it dropped to 20, but so far this year it has increased to 39."
He indicates that something similar happens in Los Alcarrizos, where there is a trend that is maintained with 22 homicides in 2018, 31 in 2019, 27 in 2020, and 35 in 2021, and this year it takes the same route with 30 cases until the 14th of this month.
"The community of Pedro Brand has not escaped the crime wave and registers 10 homicides in 2018, 12 in 2019, 13 in 2020, 2021 was the one with the least cases with 6 and so far this year already reaches the average of 11 deaths from this cause."
While in San Antonio de Guerra, total control has been achieved, going from 12 homicides in 2018 to none so far this 2022. He says it is important to note that in the places intervened through the Comprehensive Citizen Security Strategy "My Safe Country," when comparing 2021 with this year, as of November 14 in Santo Domingo Oeste, homicides have dropped to zero, in Santo Domingo Este only 2, for an improvement of 67 percent, and in Santo Domingo Norte 3, for a gain of 57 percent.
While in Boca Chica, there were two deaths from this, cause for an increase of 100 percent.
Given the above, the Ministry of Interior and Police have taken the necessary steps to regularize the consumption of alcoholic beverages. They are currently in consultation and consensus, within which it is expected that next Tuesday, an agreement will be signed with the owners of bars and restaurants in the different municipalities of the province of Santo Domingo, extending to the entire national territory.