Drug traffickers exploit large Dominican Republic connection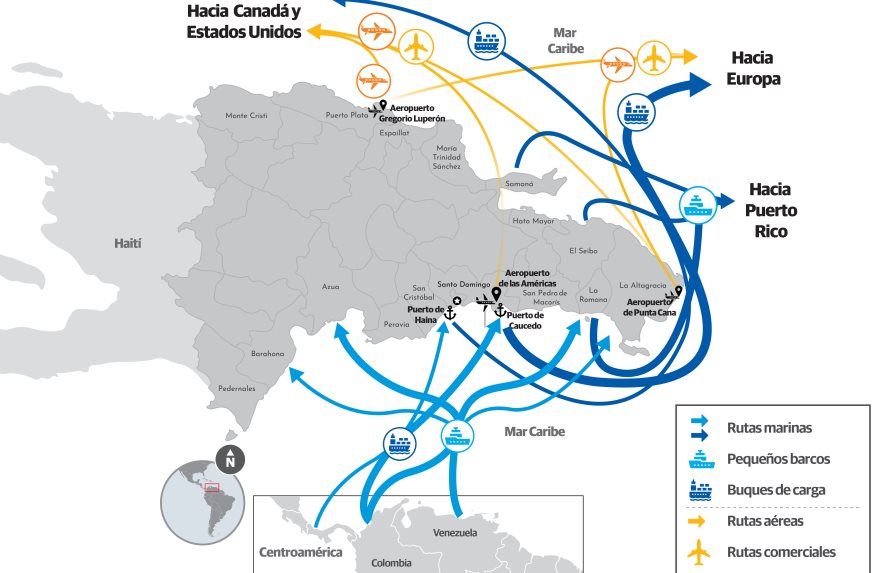 Source: Diario Libre
Cibao, Gregorio Luperón, Las Américas, and Punta Cana are the four international airports in the Dominican Republic. Haina and Caucedo are two additional significant seaports. The latter can accommodate Panamax ships, the largest ships that can pass through the Panama Canal. Drug traffickers looking to smuggle drugs into the United States and Europe have taken notice of the Dominican Republic's growth into one of the key connections in the Caribbean region. According to international reports, drug trafficking has a permanent presence in the nation and has infiltrated the logistics system that should make it easier for legal goods to be transported, as well as the personnel in charge of criminal prosecution and port surveillance.
According to the Global Organized Crime Index, "the nation is thought to be the leading transit hub for cocaine from Venezuela bound for North America or Europe in the Caribbean." To get cocaine to the Dominican Republic, most dealers use speedboats or ship containers over the sea. Peravia, San Pedro de Macoris, and Barahona are three such provinces in the southern region of the Dominican Republic where there have been significant drug seizures. However, the province of Santo Domingo would serve as the distribution hub via the Caucedo port, according to the Insight Crime report.
The Dominican Republic is within reach of speedboats that arrive loaded to the coast, despite its proximity to the 1,600 km away coasts of Colombia and Venezuela, making it difficult to fight the scourge there.