The popular accordionist Chimbí takes refuge in misery after spreading so much joy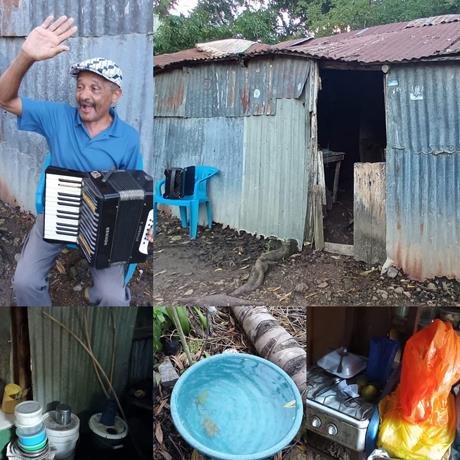 Source: Listin Diario
Despite bringing joy to so many people, in so many places, for so long, Inocencio Galvez, the popular Chimbi, the most skilled accordion player and traditional music player in the eastern region, lives in a dilapidated house with a dirt floor, no bathroom, no kitchen, and in subhuman conditions. The story of other consecrated musicians who end up in extreme poverty after a life of applause and fame seems to repeat itself in the drama of this neglected glory of singing and art, a follower of Tatico Henriquez.
The musician who learned to play the instrument from his father is well-known and hummed in fields and cities, and he is frequently hired for open-air festivals, parties, typical resort nights, and outings. When you visit him at his home, he appears to be a Holocaust survivor. The house marked with the number 21 of Teo Cruz 21 Street in the Cañada Francisca sector, where Villa Guerrero begins in this city, reveals great poverty and neglect. That does not appear to be the home of someone who, standing upright and improvising, strings together stanzas of songs such as "Qué Lio,"  "Cueros Tapao,"  "Que me den lo Ahora" and others that are repeated by many, and even have YouTube pages.
Their reality is very different from those who follow them on social media, as they do not take advantage of the many views or the constant requests from friends to go out and have fun with them. Chimbi hilarity is well-known and celebrated. He is a musician, composer, and actor; this may be a genetic trait, as several of his brothers are improvisers and witty. However, behind the favorite man for Mondays, Juan D'Cana, who draws audiences from all over the East, reality does not smile but instead hits him. In evidence of the extreme, his house, wrapped in old zinc, with scattered dishes, a useless stove, and poor lighting, lets the sun's rays through the holes in the roof.
He lives alone, oblivious to the promise to repair his home made by former senator and engineer Roberto Rodriguez, who measured his plot more than a month ago. They had previously taken other measurements, and no authority had approached him after Hurricane Fiona. Several of his friends are aware of his health issues, which are exacerbated when "bohemia" or the night party lasts too long.