Patrolling by quadrants started yesterday in the DN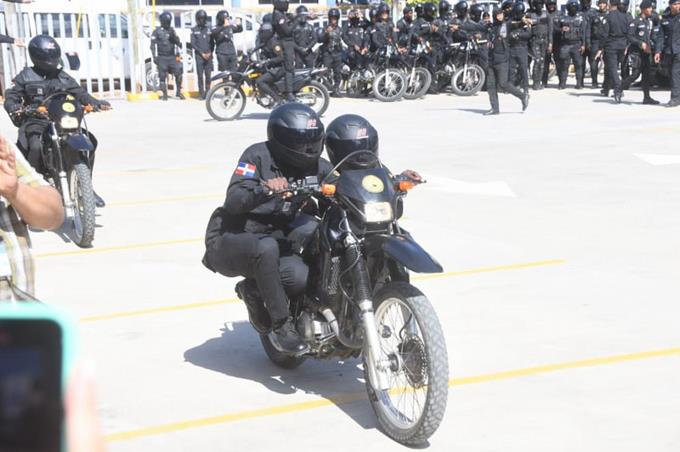 The beginning of this new strategy took place in the Banreservas Tower, in the Winston Churchill.
Santo Domingo, DR
Yesterday, the implementation of the strategic plan "Patrolling by Quadrants," a technique that consists of small geographic delimitations of a fixed sector to which personnel are assigned, to optimize and make crime prevention and deterrence more efficient.
The initiative began with 504 police officers and 84 quadrants. In each area that makes up the central polygon, there will be 18 agents who will work in three shifts.
During the event, which marked the opening of this security strategy, it was informed that 33 vans, 84 motorcycles, 33 car kits, 504 body cameras, 117 communication radios, and 117 cell phones were available for its execution.
The executive commissioner for police reform, Vila del Castillo, explained in detail the protocol to be followed by law enforcement officers to execute the plan.
"You (police officers) must frequently cover the quadrant in a stealthy manner and be attentive to any event that may occur, with frequent stops to make contact with the neighborhood," he said.
It is essential, Vila instructed the police officers, "to be friends with the community members in the area: exchange numbers, know each other's names."
According to Vila, during the activity, the police officers are instructed to provide residents with their identification and cell phone number for any assistance they may need to provide. They must know where the schools, benches, grocery stores, bars, restaurants, and other establishments are located.
The authorities informed that Patrolling by Quadrants will be accompanied by the Command and Control System, which has been implemented since last April and offers an expanded panorama of crimes, including injuries, homicides, and robberies. In this way, it was reported insecurity indicators would be displayed, such as information on suspects in absentia, convicts, and fugitives.
"The strategy will allow data-driven decision making, in order to create quadrants and organize human and logistical resources in fixed demographic sectors and thus direct preventive patrolling," said General Juan Brown Perez.