Inaipi receives innovation award in Public Policies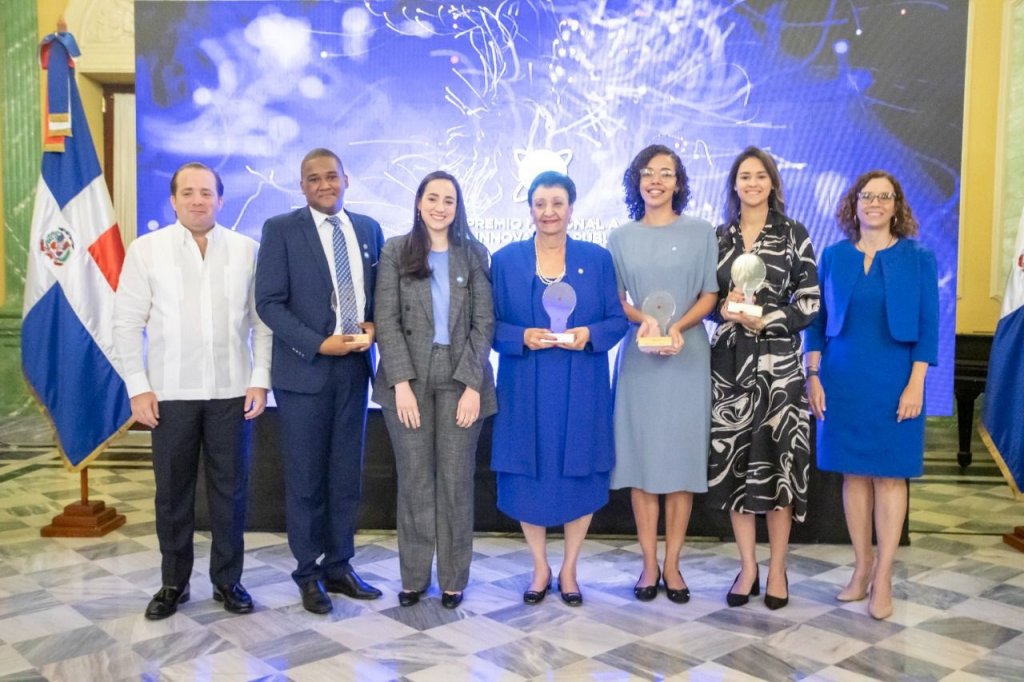 Source: External
The National Institute for Comprehensive Care for Early Childhood (Inaipi) received second place in the category "Innovation in Public Policies and Services" in the National Prize for Public Innovation sponsored by the Administrative Ministry of the Presidency (MAPRE). Maria Elena Valdez, Jairo Moreno, Angie Jiménez, and Maria Alonso were recognized for their innovative proposal for the Dominican Child Development Measurement System (Simedid), a project implemented in the Comprehensive Care Centers for Early Childhood (Caipi) and the Care Center for Children and the Family (CAFI) in collaboration with the Universidad Iberoamericana (Unibe) and the United Nations Children's Fund (Unicef).
The award was presented by the Administrative Minister of the Presidency, José Ignacio Paliza, to the winners and the executive director of Inaipi, Besaida Manola Santana de Báez. Valdez, Jiménez, Alonso, and Moreno work in the departments of Child Development and Information Technology. The National Award for Public Innovation honors public servants who submit innovative ideas to streamline processes and improve citizen services. Simedid is the Dominican Republic's first system of its kind, collecting and disseminating data on child development through direct observation of children receiving care at Caipi centers and the Family and Community Based Program (PBFC). ).
According to the statement, the data collected by this innovative system allows public policies to be targeted in favor of children and families who receive quality services from Inaipi. Inaipi, the Deputy Director of Institutional Management, Yanett Rodriguez, Penélope Melo Ballesteros, the Director of Child Development, Aideli Almonte, the Director of Planning and Development, and Silvio Reyes, the Director of Information Technology, all attended the award ceremony at the National Palace. Unibe was represented by Dr. Aida Mencia Ripley, Vice Chancellor for Research and Innovation; Leandro Féliz Matos, Dean of Innovation; and Professor Daniel Cubilla, a member of the academy's research team.