Abinader reaffirms that the country cannot deal with Haiti alone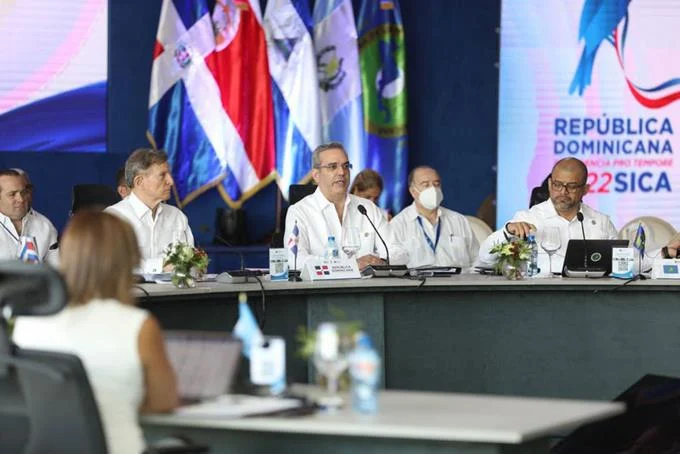 President Luis Abinader led the work of the meeting of the SICA countries that met for two days in Santiago.
Santo Domingo
President Luis Abinader yesterday appealed to the international community demanding mediation to help overcome the suffering endured by the Haitian people, pointing out that they "have the obligation to come to Haiti's aid."
"We call the attention of this conclave, so that it becomes aware that the sacrifice made by the Dominican Republic with the excess of irregular immigrants exceeds its possibilities of assimilation," expressed the Dominican governor.
"Before continuing," said the governor, "I must mention an issue of utmost importance for the Dominican Republic. As you know, the neighboring nation of the Republic of Haiti has recently seen its political and social stability deteriorate, unleashing waves of emigration, in most cases irregular and disorderly, the first destination being the Dominican Republic and even other countries in the SICA region". He stated that "there has been a generalized increase in migration throughout the world. This reality has a strong impact on our region, since it is also true that South-South migration continues to grow."
Presidency ends
For this reason, said Abinader, who today ends his term as president pro tempore of the regional entity, "it is imperative that from SICA and in each of the organizations where we have spaces for dialogue, we work seriously to achieve a better regulation of the movement of people."
While we are aware, he said, "that they are produced by structural factors inherent to the poor development of our economies, it is also true that it is the obligation of each government to assume the levels of commitment that correspond to them, especially if they are issuers."
The President made these statements during the confirmation of the agenda of the meeting of leaders during the second day of this "LVI (56th) Ordinary Meeting of the Central American Integration System (SICA)" at the Convention and Dominican Culture Center of the Universidad Tecnológica de Santiago (UTESA), in the city of Santiago de los Caballeros.
On the other hand, President Abinader mentioned that the Pro Tempore Presidency of the Dominican Republic has been to "adapt integration to the new challenges," an adaptation that, according to him, has been reflected in the process of reflection on the institutions of our system.
The countries present
With this intervention and the reading of the agenda, the program is to be discussed by the heads of state, leaders of the delegation, and representatives of the governments of Guatemala, Honduras, El Salvador, Nicaragua, Costa Rica, Panama, Dominican Republic, and Belize was approved.
Abinader analyzed the negative impact on regional integration due to the continuing effects of the health crisis. These powerful climatic phenomena have hit our region and the dire consequences of war.
"All this has impacted the daily life of our peoples and has left profound effects," said the head of state.