Caution, dangerous swell on the Atlantic coast, says Onamet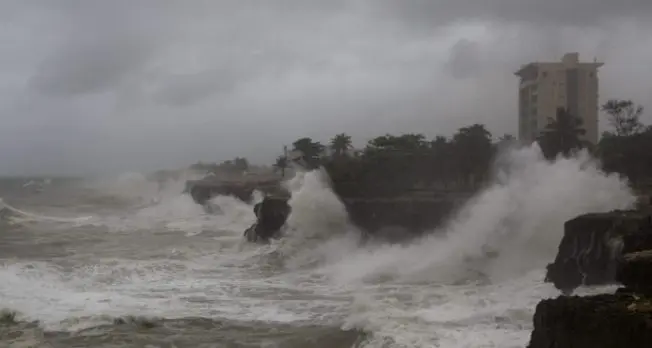 The National Meteorological Office (ONAMET) reported that a high-pressure system generates low rainfall conditions over our territory. However, the marked flow of fresh wind from the north and the local orographic effects will cause cloud increases tonight and during the early morning, accompanied by isolated showers over localities of the northwest, north, northeast, and the Central Mountain Range.
In its marine report, the Onamet recommended that from Cabo Francés Viejo (María Trinidad Sánchez) to Cabo San Rafael (La Altagracia), the operators of fragile and small boats stay in port due to wind and abnormal waves. In the rest of the coast, navigate with caution.
"We suggest to the different users of beaches on the Atlantic coast to use them with due caution," said the agency.
For tomorrow, Saturday, sunny conditions will prevail in the morning hours and the course of the afternoon in much of the country due to the effects of the high-pressure system. However, during the night, cloud increases are expected, followed by scattered showers and occasional thunderstorms, due to the proximity of a frontal system to the north of the island, mainly towards communities of the Atlantic coast, the Cibao valley, the eastern plain and the Central Cordillera.
The swell is dangerous on the Atlantic coast. Therefore, operators of fragile, medium and small boats are recommended to stay in port from Cabo Francés Viejo (María Trinidad Sánchez) to Cabo San Rafael (La Altagracia). In contrast, we recommend sailing close to the perimeter without venturing offshore due to wind and abnormal waves for the rest of the Atlantic coast. On the Caribbean coast, conditions are expected. For more information, visit https://onamet.gob.do/index.php/pronosticos/informe-marino.
Temperatures will remain quite pleasant to cool due to the north wind flow. They could reach a minimum between 2 ° C to 8 ° C in high areas such as Constanza (Valle Nuevo), Jarabacoa (La Vega), Padre las Casa and Peralta (Azua), Polo (Barahona). Also, it will feel cool in urban areas with values between 17 °C to 21 °C during the night and early hours of the day.