Those involved in the Duarte highway accident point to the lack of signage as the cause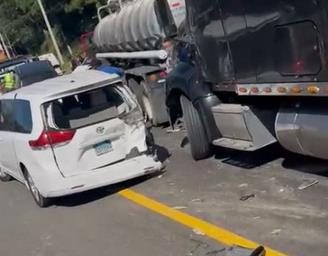 Source: External
Several witnesses to the Duarte highway accident, in which four people died and ten others were injured, stated that one of the main causes of the multiple hit-and-runs was the Ministry of Public Works and Communications (MOPC) lack of signaling. Through several videos shared on social media, several people claim that because there was no signage, the vehicles were "surprised" by the Ministry's work, which ended the accident at kilometer 66 of the Duarte highway in the so-called "La Cumbre" in the direction of Santo Domingo – Bonao.
"An accident, an accident; this curve is very dangerous; so there was no signaling ahead, everyone collided," said a man in a video posted on Twitter. Andrés Matos, Public Works' director of communications, stated that the institution and its employees had posted the warning signs and that the accident was the result of the "recklessness of the truck drivers in that dangerous curve."
The National Police's General Directorate of Transit and Land Transportation (Digesett) has not yet released a formal report on what transpired.