Detained illegal Haitians allowed to leave the "vacacional" (vacation)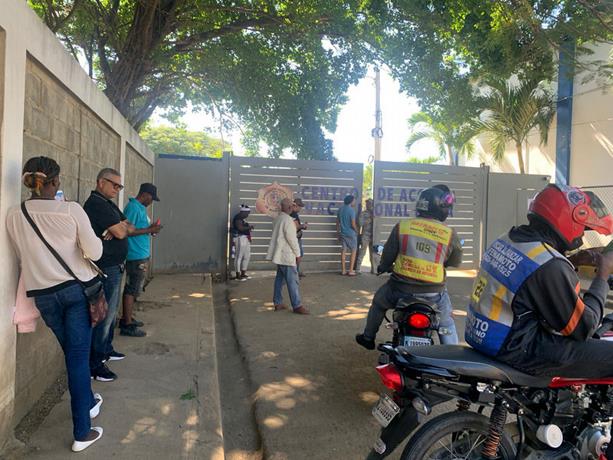 Residents await news of those detained in different raids carried out by immigration agents.
Santo Domingo, DR
Even though the Immigration authorities have intensified their operations against undocumented Haitians using raids throughout the country, citizens in the vicinity of the Haina Vacacional Reception Center claim that they are "cheating" President Luis Abinader.
This is supported by the fact that those responsible for the Vacacional are allegedly letting undocumented immigrants leave through the back of the center.
"Some guards are cheating the president, in coordination with the so-called buscones," said Pablo de la Cruz with notable dissatisfaction, indicating that many of the detainees "are let free at night, in exchange for cash."
According to De la Cruz, in the back of the Vacacional, "there are some bushes through which the detainees are thrown; the undocumented must then cross them to get out, but without first paying between 10,000 and 20,000 pesos".
De la Cruz guided reporters from Listín Diario to the alleged place that "is so much talked about" but that "few dare to tell what happens for fear of reprisals."
At that moment, another citizen resident in the area, Tanairys Rosario, approached reporters to tell of having seen small groups of up to five people crossing the vacant lot in the last few days.
"They take them out in groups of three and four, at their discretion; in a single day, they took out about 15," said Rosario, and indicated that "they have some people in there who facilitate their exit."
She also said that they are waited for by vehicles outside the center and then taken to their destination while others hang around in the surrounding area.
The villagers denounced that behind the Vacacional de Haina and in the surrounding area, there are, presumably, undocumented Haitians who live a quiet life and are never stopped or checked by Immigration personnel.
Negotiating for their freedom
The morning of yesterday, Friday, normally passed outside the Center, which functions as a shelter for undocumented immigrants.