Los Alcarrizos breathes safety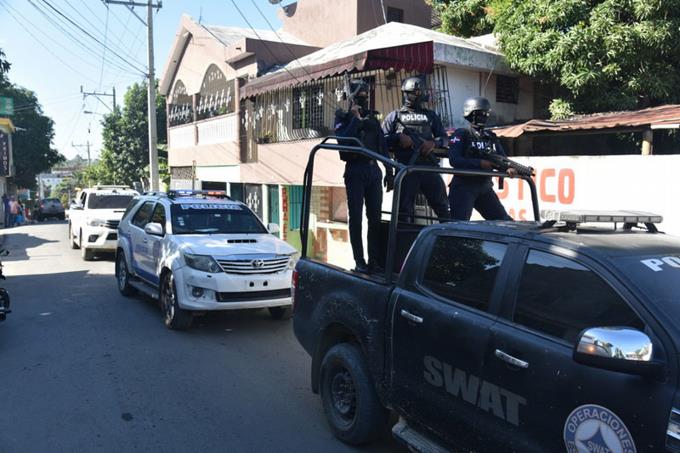 Personnel from special Police teams, aboard various units, walk through the streets of Los Alcarrizos, vigilantly watching to guarantee peace in the area. / File, Archive
Santo Domingo, DR.
Many families living in neighborhoods in the municipality of Los Alcarrizos, Santo Domingo province, say that their community is now living in a "safer" environment after the deadly tragedy which occurred on Tuesday, 13 November.
The situation involved a shooting confrontation between agents of the Central Criminal Investigations Directorate (Dicrim) and presumed criminals, resulting in five people's death in the Las Mercedes sector.
Residents of the sector, who refused to be recorded to avoid the possibility of reprisals against them by individuals linked to crime, agreed about the security in the area since the active presence of special teams of the police force, a fact which was visible before the incident took place.
"With this patrolling, one feels very good and much safer," said a resident of the same neighborhood of Los Alcarrizos where the tragedy occurred.
At least, he adds, "we will have a safer Christmas for the moment, since they are patrolling more often."
He also assured that a good part of his neighbors shared his opinion. "They say the same thing," the resident specified, referring to the new security environment that is now being observed.
"First time we have seen so many police and military together," he declared.
On the other hand, drivers of public cars and motors stated that security in the area where they live and work has been "improving."
However, a public transport driver, who identified himself as "Frank," commented that the police started to work after the conflict.
Reaction to the event
The tragic event prompted the immediate deployment of National Police personnel, who so far has been keeping watch and patrolling the localities of the municipality "to safeguard the lives and interests of citizens and prevent the occurrence of criminal acts."
"The patrolling is fine. I see police everywhere," said a passenger while boarding a public transport unit.
Among other requests, many residents demand that the presence of agents should "increase more," while they say they fear their work will decrease during the week and that crime will return to harass them.
"The patrols were there before, but now with more frequency they are being done, but I think we do nothing with the patrolling if we have to do a cleaning, because here there are many policemen who are rigged, unfortunately. Not all, but the vast majority," said Esteban Jiménez, 42.