Abinader delivers 58 vehicles to 911 system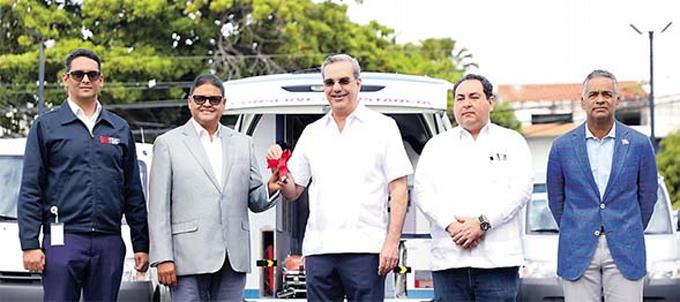 Santo Domingo, DR
Before the Christmas and Christmas Eve festivities, President Luis Abinader delivered 13 ambulances, five vans, and 40 vans to the National Health Service's (SNS) Directorate of Out-of-Hospital Emergency Care Services, the response component of the 911 System.
During the formal delivery of the fleet of vehicles, the President indicated that this year they were working on the problematic logistics for the acquisition of ambulances.
Likewise, Abinader announced that for next year the purchase of another 170 ambulances to reinforce the entire emergency system is already in process.
He also declared that this year 153 ambulances plus 40 vans had been delivered to reinforce the work of 911.
Upon his arrival, in his Tesla, the head of State was received by the director of the National Health Service, Mario Lama; the director of the 911 System, Randolfo Rijo; the director of the Directorate of Out-of-Hospital Emergency Services of the SNS, Juan Manuel Méndez; the lieutenant colonel pilot, Harold Jiménez, deputy director of the 911 System and the Minister of the Presidency, Joel Santos.
He immediately went to the interior of the entity to observe a new control center of the 911 network, which has integrated all the institutions of the State that have to do with security and emergency so that the service is "more efficient."
"911 is working in an integrated manner with the Police and for the first time with the Military and Police Commission (Comipol), of RDVial. We are already becoming more efficient," said the President.
The delivery of the 58 vehicles was made in the esplanade of the National Emergency and Security Attention System 911 of this capital.
The vehicles will be used to support the logistic operations of the local Emergency and Emergency Regulatory Centers (CRUE).
Family Festivities
President Abinader said that after exhausting a work agenda until noon today, he will spend Christmas Eve and Christmas with his family, as he has always done.
The President reiterated his appeal to the population to enjoy the Christmas festivities "with prudence, without excesses and with their families." He said that all security, emergency, and support agencies are prepared to provide service to Dominicans during these dates.
He affirmed that calls having to do with citizen security have decreased since the last week of November and so far in December, according to statistics presented at the recent weekly meeting he had with the Citizen Security cabinet.
"We hope to God that this continues," said Abinader regarding the decrease in denunciations.
FIGURES
50 thousand titles.
Also, yesterday in Samaná, it was reported that the government had delivered more than 50,000 property titles to guarantee families a home, property, and spaces in which they can live happily. Afterward, the President went to Santiago, where he was to head several activities.