Government to give Lisbeth and her children a home of their own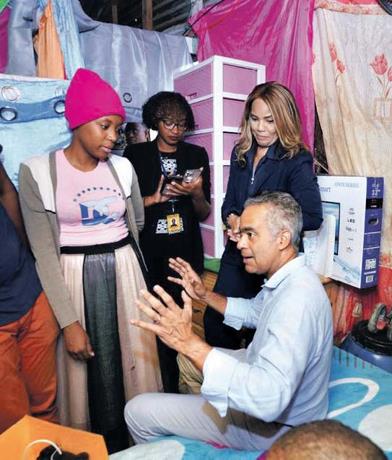 Santo Domingo, DR
It has been about a month since Lisbeth Zabala dreamed that the President of the Republic, Luis Abinader, would come to the house where she lives and promise to build her a house in which she and her two children could live in dignity.
Although her dream did not come true in a literal way, it was not far off because yesterday, the Administrative Minister of the Presidency, Joel Santos, visited the little rented place where the small family lives and unleashed his tears of emotion by taking out a letter envelope from which he read the textual information that a house would be deposited in their hands.
"This Christmas, the Ministry of the Presidency, in the name of President Luis Abinader, gives you a house of your own that will make you and your children a happy family," recited Santos, giving way to the joy of those present and the undeniable happiness of Lisbeth.
She has lived an ordeal.
It has been five years since the young Christian woman has been going through an ordeal, having the oldest of her children with a brain tumor that prevents him from walking, talking, or even eating freely.
Due to the demanding care that he and her two-year-old daughter require, the 23-year-old Christian woman has to juggle a lot to go out to work and pay the rent of the small zinc house where she lives, as well as to buy food, disposable diapers and everything else to meet essential needs.
The help
From the moment Listin Diario contacted Lisbeth and shared her story, letting her know that she would not celebrate Christmas Eve because she had no way, solidarity has not stopped knocking on her door.
Noble help arrives from many sources providing her with food, vouchers, household goods, and other things she needs.
Individuals, companies, foundations, and some government institutions have attended to her needs, providing her, as in the case of Tony Peña, in charge of the Social Policy Cabinet, with a stove, refrigerator, furniture, dining room, washing machine, chest of drawers, television and other household items.
Likewise, the office of the First Lady and other entities offered their support to Lisbeth; however, what she, Heyler Junior, and Ruth Esther (her two children) really needed was a home from which they could not be evicted.
Personally
According to the Minister of the Presidency, her pleas were heard by President Abinader, and within three months, she saw her dream come true when he handed Zabala the key to her house.
IN POINTS
Grateful.
"Thank you very much to all those who allowed me to have this great opportunity because I really longed to have a house, a home in which to live with my children," said Lisbeth in tears.
She will be able to celebrate.
Four days ago, Listin shared the case of Lisbeth Zabala. Unfortunately, she did not have the means to celebrate Christmas Eve, but today she will receive a banquet from the Presidency of the Republic that she will be able to share with 20 other people.