Conflicts and ill-health have left their marks in 2022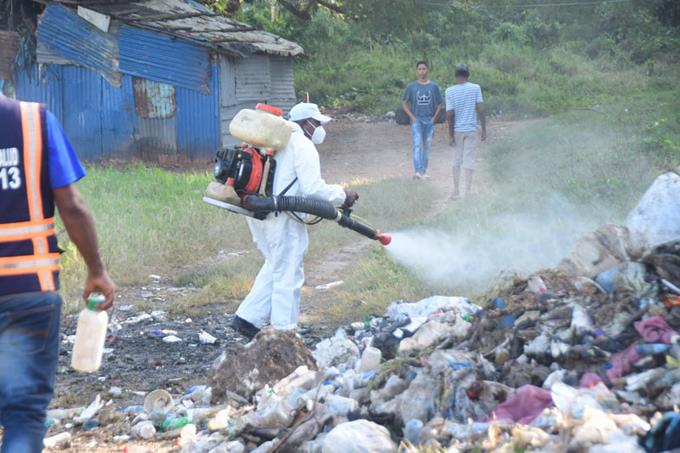 The first case of cholera set off alarm bells in the Ministry of Public Health.
Between conflicts that created tension in the Dominican health system, the result of medical stoppages, a high incidence of diseases caused by the circulating tridemic of respiratory viruses, dengue, and other types of viruses, and epidemiological alerts due to monkeypox, cholera, and natural phenomena, the year passed 2022 in terms of health.
It was also the year when the Dominican Government ended the restrictions that had been in place since 2020 due to the Covid-19 pandemic, including the use of masks, leaving the protection decision to a personal decision.
Natural phenomena such as Hurricane Fiona, which mainly affected the eastern and northeastern areas, and the coexistence on November 5 of a trough and tropical wave, which caused extensive flooding in Greater Santo Domingo, forced the activation of surveillance and rapid response actions to avoid the outbreaks of infectious and gastrointestinal diseases typical of these events. However, no outbreaks were generated, creating tensions in the system.
Also, changes were registered in some managements of the Dominican Social Security System, among them the resignation and appointment of a new general manager after complaints of five months without a public meeting. In addition, shortly before the end of the year, a new Superintendent of Pensions was also appointed.
Two epidemiological alerts in a month
October was very active, forcing the Ministry of Public Health to issue two epidemiological alert resolutions, first due to the cholera outbreak detected in Haiti and then due to the high incidence of seasonal influenza among the Dominican population.
The detection of the first case of monkeypox also led to an increase in the alert for monkeypox, of which the country has registered more than 30 cases, as well as the rise in dengue cases, which at the beginning of December had exceeded eight thousand infected and 42 deaths.
On November 5, the Ministry of Public Health issued an epidemiological alert for the floods suffered in Greater Santo Domingo. In September, it did the same due to the passage of Hurricane Fiona, which mainly affected the country's East.
In February, the Ministry of Public Health issued an epidemiological alert for floods due to increased morbidity and mortality risk in the populations affected by floods in the Central Cordillera and the Northwest Line.
On October 20, the country confirmed the first imported case of cholera after an outbreak in Haiti, in a 32-year-old Haitian woman who arrived in the country after staying for several days in Port-au-Prince and was admitted to the Higüey hospital, La Altagracia province.
On July 6, it reported the first case of monkeypox in a 25-year-old young man of Dominican nationality who returned to the country from the United States. He was isolated at the Doctor Ramón de Lara Teaching Hospital.