Customs arms smuggling apprehensions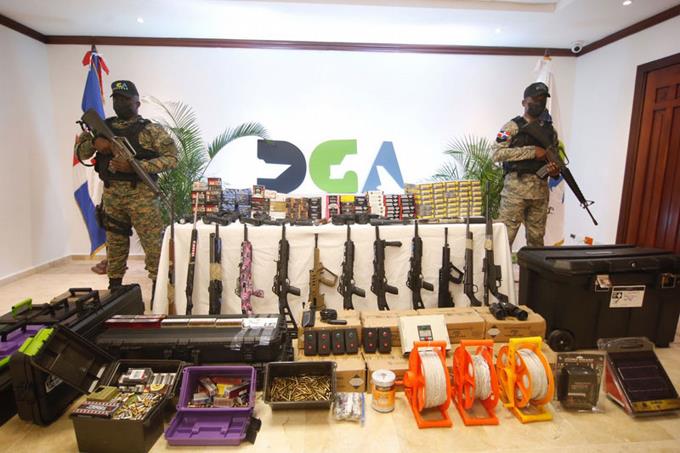 Santo Domingo, DR
Authorities have seized 465,117 units of firearms and ammunition that were intended to be smuggled into the country, a figure higher than those seized in 2021, when 300,791 were counted, according to the Directorate General of Customs (DGA).
Customs intelligence and security agencies have stepped up their operations in recent days at ports, airports, and border crossings, seizing dozens of weapons, ammunition, military equipment, and goods smuggled into the country.
Among the most seized firearms are large caliber rifles, rifles, pistols, revolvers, explosives, and ammunition of different calibers.
The most recent seizure occurred last Thursday when the authorities seized two rifles, 950 cartridges of 5.56-millimeter caliber, 10 magazines, a telescopic sight, and a P-80 slider.
The military supplies were inside a box sent from the city of Lawrence, in the state of Massachusetts, United States, camouflaged with basic necessities.
Until last August, the authorities reported the seizure of firearms and ammunition that were intended to be smuggled into the country.
Meanwhile, last November 28, a cache of 49 firearms, 11,600 ammunition, and 21 magazines were seized, all within the framework of the fight against crime implemented by the government.
During the operations, 9 mm caliber pistols, 22 mm pellet rifles, a 5.56 caliber AR-15 rifle, a shotgun with a 22 mm telescopic sight, and a 38 mm revolver were seized.
Ammunition of different calibers and pistol and shotgun magazines were also seized.
The arms and ammunition arrived in the Dominican Republic from New York, camouflaged in boxes and tanks, and sent to different people in the northern region.
Smuggling
Last December 17, authorities seized five pistols, 13 magazines, 158 capsules, 40 explosives, and US$31,550 in cash during an operation against an organization dedicated to firearms smuggling.
The increase in seizures of military-grade assault weapons in the country raises concerns that criminal groups may have access to large-caliber weapons smuggled from the United States and other countries.