Let's celebrate in the villages!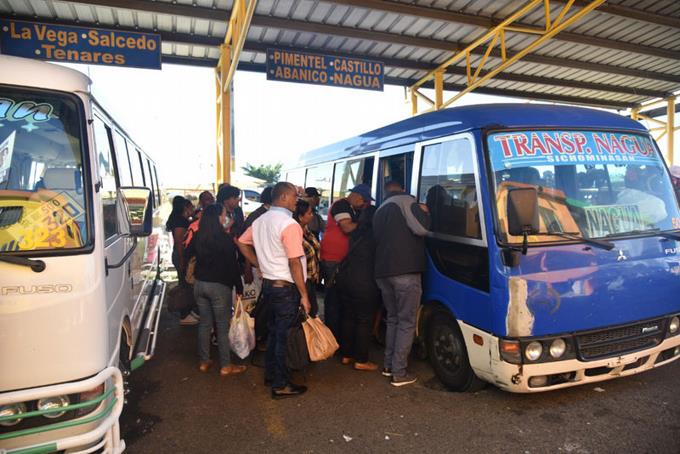 Travelers get on a bus heading to their provinces.
Santo Domingo, DR
With the joy and excitement that identifies the Dominican citizen, early yesterday morning, hundreds of people from the capital prepared their luggage. They took the route to various towns in the provinces to await the New Year in celebration with family and friends. A tour of several interurban terminals in Greater Santo Domingo showed a considerable presence of passengers bound for various communities.
One of the busiest destinations was at the bus stop at kilometer 9 of the Duarte Highway is the Cibao, a region where Dominicans departed with a large volume of luggage.
Guadalupe Ortiz is one of the passengers who left the city with her three children. She spoke with this reporter about what motivates her most to spend the New Year's festivities outside Santo Domingo.
"I prefer to go to spend December with my family because in the countryside one breathes a different atmosphere, full of emotion and good people, without evil," said Ortiz, who was on her way to Jarabacoa with her two children.
Likewise, the transportation stations to the southern region, located in the crowded Duarte Avenue in the capital, were kept with hundreds of citizens waiting to get on the bus to go to their destinations.
Although the flow is maintained, the bus route operators expect that the number of travelers will continue to grow as of today since the hours for the new year have already been reduced much more.
"Already for tomorrow (today) we will be expecting a greater number of passengers, as well as for Monday, December 31", said Arsenio Pichardo, in charge of the bus terminal La Parada del Sur, in the capital.
According to Pichardo, no fare increases have been planned for this holiday, as has been the case in recent years.
This stop sends travelers to San Juan de la Maguana, Barahona, and nearby Pedernales and Tamayo in Bahoruco.