National District firefighters bring joy to families with the traditional Three Kings parade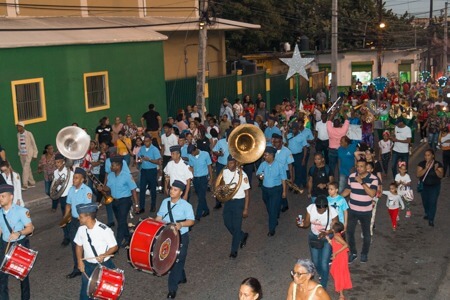 Source: External
The National District Fire Department held the traditional Three Kings parade on Thursday, along with dozens of spectators who come out every year to celebrate. The Three Kings Day Parade has been held continuously since 1948 and will only be suspended during the 2020 pandemic. It includes, in addition to the Three Kings who parade on horses, more than 200 exhibitors who sing, play, and dance during the 1 hour and 30-minute journey. The journey began by ascending Calle Emilio Prud'Homme to Av. México, then south to Calle Duarte and Av. Mella. From there, they proceeded east to Calle Arzobispo Merino, which they followed south until they reached Calle El Conde, then up to the Fire Department, which was located on Av. Mella.
"The Three Kings Day Parade is a traditional activity that is highly anticipated by the Santo Domingo community, particularly by the citizens of the Colonial City, which was attended by more than 500 people, including adults and children, as well as cultural traditions. and nuns of the Epiphany of the Lord that adorn the Colonial City of Santo Domingo," said General José Luis Frómeta Herasme, Mayor of the National District Fire Department.
The event was attended by the deputy mayor, Stalin Alcántara, Cabildo councilors, Ciudad Colonial community members, and art world personalities.