The young man who traded Harvard for the Dominican Republic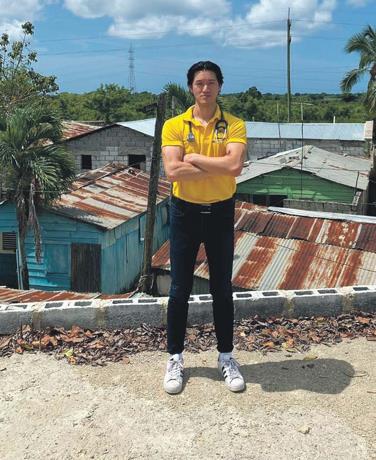 Justin Le graduated from Central East University with a GP degree.
Santo Domingo, DR
"I was trying to survive,, and every day I asked myself if it was worth it to have left everything behind to start all over again" this is how Justin Le began narrating the story behind his university degree.
Justin Le is a Canadian who arrived in the Dominican Republic in 2018 with a suitcase full of dreams and the nostalgia of having left a whole life behind to become a Health professional in record time.
The 25-year-old started his higher studies at Harvard University in the United States. Still, because the medical career has a duration of 10 years and four correspond to the pre-medical, he looked for other options where the road was shorter but more complex.
He did not hesitate to say: "My mother works in a clinic along with other doctors who graduated from the Universidad Central del Este de República Dominicana (UCE); they talked to me, they told me that in the Dominican Republic one can enter medicine directly from high school and that went hand in hand with what I wanted."
The influencer also said that the radical change he underwent was a tactic to learn something new and save time.
When he settled in San Pedro de Macoris, he said that his main obstacle was the language barrier. Le, not knowing the culture and the Dominican system, the first months became an ordeal to which he was trying to adapt.
That's why today he thinks: "I knew absolutely no Spanish, not even to say thank you, and that took away from everything."
Referring to his university process, he said he had to ask questions about the topics discussed in the classroom and then study them at home in English and translate them into Spanish for the exams.
He lived curious anecdotes, which still impact him: "In my first class of 'History of Medicine,' a professor told me that I had to make a presentation in Spanish, I explained my case and asked to do it in English, and he gave me a scolding in front of the classmates.
He told me that I shouldn't be here, that I should learn Spanish before starting university, and that if I thought I couldn't do it, I should quit my career and do something else. From that day on, I felt so bad that in my first week, I wanted to leave."
His parents from Canada motivated him to stay strong until the exams, and when the stage of the evaluations came, he passed with the best grades in his sections, which placed him in the high house of study in the East.
"I graduated as a general practitioner and this achievement makes me feel extremely happy, because it is a dream just fulfilled. Now, with everything I have learned, I am seen as another Dominican, but before I was very far from that possibility."
Doctor by day, actor by night
The doctor's discipline and efforts led him to become a health professional and a recognized influencer on social networks. But, according to Le, acting in commercials and music videos were unforeseen events that arose as he learned more about the country.
He also commented, "I did my internship in Santo Domingo, and that's when I started acting as a hobby and participating in commercials and music videos. In tiktok I went viral very easily."
He stressed that his art career began because of a friend who motivated him to venture into this branch. His first appearance in an audiovisual was in the remix "Desde mis Ojos" by Chris Lebron, Sech, and Jay Wheeler.
"'Doctor in the day, and actor at night' is the slogan I have in my Instagram bio, because during the day I was in my internship, there were many jobs in the acting world, but I could not accept them because for me medicine comes first, I could not miss the hospital," he concluded.
He has two Tiktok accounts, one entirely in English with more than 80 thousand followers in which he spreads medical content and another in Spanish with 23 thousand followers in which he shows himself as just another Dominican.
I am not Chinese
Because of his features, Dominicans confuse them and call him Chinese.
"I am not Chinese," he says, adding that his features are because his parents are from Vietnam, with Korean ancestors.
And he criticizes that the lack of culture leads Dominicans to consider Asians as Chinese, forgetting that this detail can be an offense. "We Asians don't like to be called Chinese. It's like if they call a Dominican Haitian," he explained.
Eventually, he accepted that they would not stop pigeonholing him with that nationality, and he stopped getting upset.
A stay in Canada and return to the DR.
The general practitioner will return to his homeland, Canada, to continue his studies, this time his specialty. "After I finish my specialty, I will return to the DR, here I want to practice my career and enhance my skills in the arts."