Abinader promotes aeronautics incentive law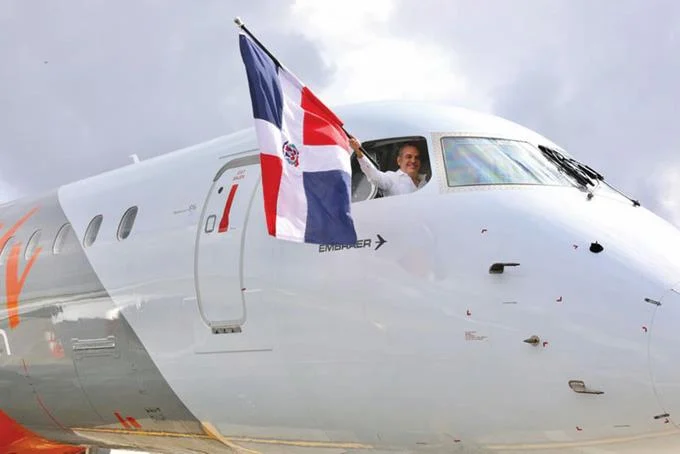 Abinader raises the national flag through an Embraer company plane pilot window.
Santo Domingo
President Luis Abinader has asked legislators to urgently approve the bill for the Promotion and Competitiveness of Civil Aviation in the Dominican Republic, which is currently before the Senate, to "boost and energize the sector and contribute to the growth and lowering of the cost of airline tickets."
According to the President, the bill in the hands of the National Congress was approved by the working commissions and is now expected to be sanctioned in both houses during this extraordinary legislature.
"We ask the National Congress, both the Senate and the Chamber of Deputies, to take advantage of the extension of the current legislature so that this bill can be approved as soon as possible," said the head of state.
Abinader made his statements during an event held at the Las Americas International Airport, where the Sky High airline announced its expansion projects for the year 2023, with a fleet of four Embraer 190 aircraft, with a capacity for 97 passengers.
Regarding the advantages of the project's approval, the president emphasized that it would give the Dominican Republic "a legal framework that guarantees the promotion of projects in the sector of the expansion of the national civil aviation."
The main objective of the legislation is to promote and increase the connectivity of civil aviation in the country so that national airlines can develop and expand.
He also emphasized that this new law would contribute to establishing the corresponding incentives for Dominican airlines to promote the increase of tourists to the national territory by air.
He added that a new law would make it easier for airlines to establish new domestic and international routes to and from strategic markets with Dominican territory as their destination.