Analysts: The US, France and Canada are not interested in helping Haiti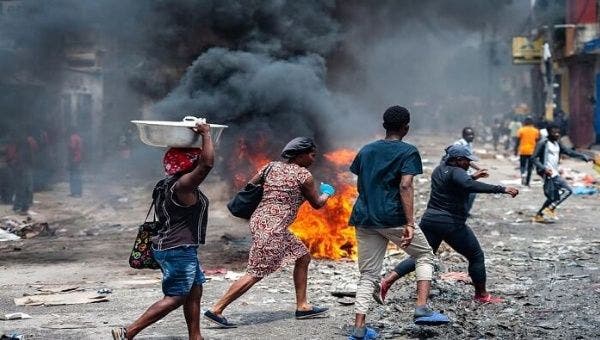 While Chez Checo recommends that the Government not trust that the powers will solve the crisis, Castillo believes it is necessary to continue calling on them to come to Haiti's aid.
Experts and analysts concerned about the Haitian crisis agree that given the coldness of the international community towards Haiti, the Dominican Republic has no choice but to take measures on its own to avoid further adverse effects.
Pelegrin Castillo and Miguel Guerrero were among those present.
Historian José Chez Checo and political leader Pelegrin Castillo made their criticisms in various aspects at the last Forum of the Pedro Henríquez Ureña University (UNPHU) entitled "Present and future of relations with Haiti: the challenges of good neighborliness."
Chez Checo, while speaking on the topic "Haitian Immigration in the DR: A very serious problem," after reaffirming the marked difference between the cultures of the two countries, cited 26 measures to be taken by the State, among them: not to trust that the United States, France, and Canada will take care of Haiti because they are not interested and on the contrary their agenda is to merge both countries; not to allow illegal entry, because it fosters social instability, delinquency, and criminality; seal the border; support the construction of the wall and implement border development.
In addition, the issue of midwives, brought by mafias, should be addressed. Furthermore, entities concerned about Haitians in the DR, such as USAID, the European Union, the Catholic Church, and Citizen Participation, should be required to set up mobile hospitals in Haiti; repatriations should not be stopped; those who employ Haitian illegals should be fined; immigrants needed by the country should be regularized with all their guarantees, among others.
When it was the turn of political leader Pelegrin Castillo, he assured that Haiti is not a problem of migratory flow but of an international nature, where the powers are trying to dilute the crisis in the fragility of the Dominican State.
He asked not to give up the demand to the international community not to lose the moral factor of the struggle because from outside the country, a profile of a "Criminal State" has been created to justify a future intervention on the island.