Salinity Barrier would benefit nearly 2 million people in SDE and SDN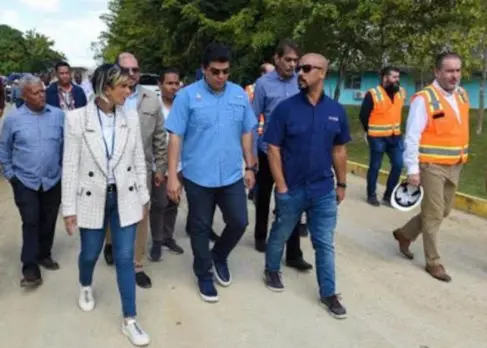 The director of the Santo Domingo Aqueduct and Sewerage Corporation (Caasd), Felipe Suberví (Fellito), highlighted the progress of the expansion and transfer works of the Barrera de Salinidad Aqueduct project, which will provide drinking water to more than 1.8 million inhabitants of the municipalities of Santo Domingo East and North.
In addition, the first phase of the design and construction of wells and the potable water distribution network in the municipality of San Antonio de Guerra began a project that will benefit 38,200 inhabitants.
The project consists of the construction of 10 new wells and the installation of 25 kilometers of pipelines to satisfy the demand of the residents of this locality, which has been experiencing problems in the supply of the precious liquid for 20 years.
Suberví showed his satisfaction in observing the progress in each of the works that make up the great Salinity Barrier project, which has several modules in which they will make treatment plants and has as its primary objective to increase the production and storage of drinking water.
"We are getting closer and closer to achieving the production of 136.22 million gallons per day. With the 6 cubic meters of water per second that we will have by mid 2024, we are already making progress. When we arrived, we were producing 1.8 cubic meters per second, and we have raised it to 2," assured Suberví, director of Caasd, after touring some of the works.
Likewise, the Caasd director affirmed that four cubic meters of water per second would be produced in the first stage of the works, optimizing the service in favor of the users.