Earthquake affected hospital and 29 educational centers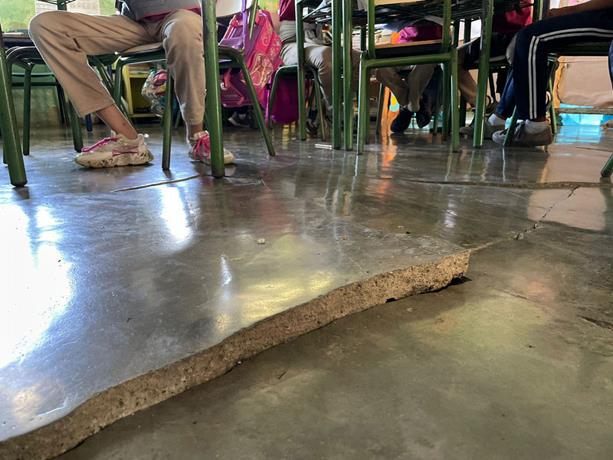 Source: L:istin Diario
The infrastructure of Taiwan Hospital in Azua and 29 educational centers in various parts of the country were damaged by the earthquake last Wednesday in the southern zone, which had a magnitude of 5.3 on the Richter scale and caused widespread concern among the public. According to a Civil Defense report, ten educational centers in La Vega province were damaged. This is followed by the Peravia province, where six schools were affected; three were registered in Azua, Barahona, and Santo Domingo, and two in San José de Ocoa.
The schools Francisco del Rosario Sánchez, Los Cocos, and Ana Luca Pujols in Santo Domingo were affected, as were the educational center's Padre Fantino, Parroquial Maria, Juan Ricardo Cruz, Colorado Pueblo Viejo, Professor Juan Bosch, Las Caas, Maguey, and Las Yerbas in La Vega. In this province, some schools reported physical structure damage, and journalists from Listin Diario confirmed cracks in support areas and raised floors, putting students, teachers, and administrative staff at risk.
The Aliro Paulino, Ramón Matias Mella, Máximo Gómez Polytechnic, Salvantina Paz, Escuela de Escondido, and the Episcopal School were also affected in Peravia, as were the Martina Feliz, Luis Ramirez Mora, and Barrio Arriba educational centers in Azua. The Maria Sepulveda and Juan Pablo Duarte educational centers in Barahona were affected, as were the Manuel Federico Mateo and Angel Emilio Casado basic schools in San José de Ocoa.