ITV alone would remove thousands of tons of garbage from streets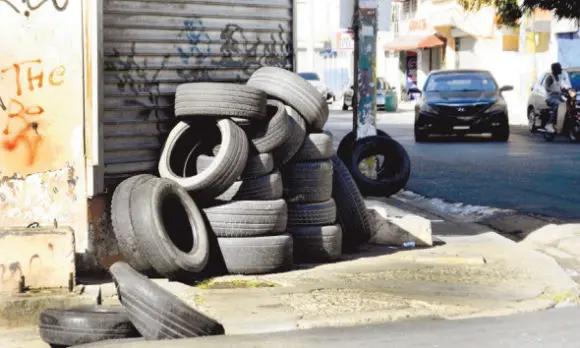 Massive imports of used tires and vehicle parts are not prohibited in the Dominican Republic, so daily, these materials are observed in improvised dumps on streets and avenues.
It is estimated that more than 100,000 tons of tires are accumulated each year in the Dominican Republic, which is then seen in improvised dumps on streets and avenues, but then in giant landfills.
The director of the National Institute of Transit and Land Transportation (Intrant), Hugo Beras, considers that the solution to the problem would be in the implementation of the Technical Vehicle Inspection (ITV) for which the process is being prepared as mandated by Law 63-17 of Mobility, Land Transportation, Transit and Road Safety.
You can read: Paliza delivers buses to students and sportsmen in Puerto Plata.
Beras specifies that no Law prohibits the import of used tires, but the authorities try to correct the vacuum with the process (ITV).
He expresses that what eliminates the condition of the quality of the tires is not only those that are imported but also those that are commercialized within the territory after they are removed from vehicles by their owners to buy new ones or in better conditions.
"The Technical Inspection is what watches over you, not only for the physical conditions of the tires, but even the expiration date, the time of use; then all the scams that exist on the subject of used and deteriorated tires will begin to be eliminated," he specifies.
He estimates that when the ITV comes into operation, imports of used tires will be automatically eliminated since nobody will demand it because if they do, the vehicle will not pass the test at the time of the check.
He informed that through the Public-Private Alliance and Intrant, all the work has already been concluded, for which the Council's approval is still pending.