Authorities warn to take guns off streets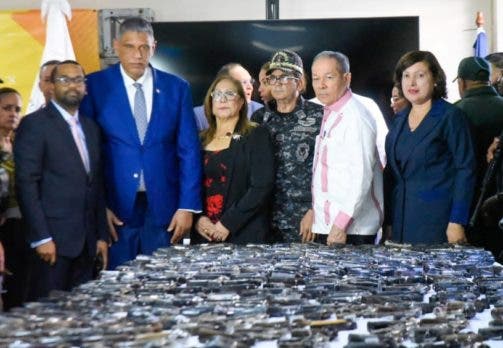 The chief prosecutor of Santiago, Osvaldo Bonilla, warned that they would continue to remove illegal firearms from the streets with determination, transparency and, above all, without fear, after pointing out that this task requires a lot of courage.
The official spoke during the delivery to the Ministry of Interior and Police of a total of 503 firearms which were purged and confiscated after the completion of different judicial processes.
Bonilla thanked the prosecutors of the institution, who, with courage and commitment, captured these weapons, which represented a danger in the hands of civilians.
He said the weapons were seized in various investigative proceedings in which the Public Prosecutor's Office participated as a coordinating body along with other national security agencies.
You can read: Atlantic waters flood several restaurants in Puerto Plata.
He said that this action is of great importance because ¨getting to this point meant many nights of effort, of defying danger, of police accompaniment, of police officers who are no longer here, some of them because they have died¨.
He congratulated the prosecutors and the auxiliary institutions of the State, Police, DNCD, and Army, who accompanied him in the task of continuing to remove illegal weapons from the streets with transparency and courage.
Minister Jesús Vásquez Martínez recognized the importance of this joint action, which he said is the result of months of work and is part of establishing a culture of peace.
The remission of these civilian weapons, seized for different infractions, is contemplated in Article 91 of Law 631-16 for the Control and Regulation of Weapons, Ammunition, and Related Materials.