What the Police found during raids in Capotillo and Ensanche Espaillat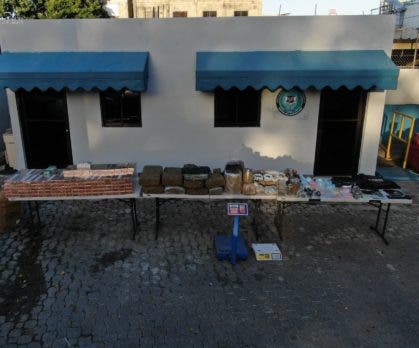 During raids in the Capotillo and Ensanche Espaillat sectors.
Police agents attached to the Central Intelligence Directorate (DINTEL), together with members of the Public Prosecutor's Office, seized a total of 141 portions of narcotic substances, two revolvers, four bulletproof vests, 22 bales of marijuana, 580 ecstasy pills, five portions of hashish, also 40,270 cigarettes of different brands, during simultaneous raids carried out in the sectors of Capotillo and Ensanche Espaillat, of the National District.
These raids were carried out to search for illegal firearms, narcotic substances, fugitives from justice, and other crimes related to organized crime.
During the investigative process, a raid was carried out under Judicial Order No.0005-FEBRUARY-2023, in a house located at 8th street, corner Jimaní, in the Espaillat sector, where Darier Beltré, 25 years old, and Ronny Hernández, 31 years old, were arrested in flagrante delicto. Seventy-six portions of rocky material, presumably crack, and one of a white powder, probably cocaine, were seized.
Also taken was a scale for weighing drugs, 2,400 pesos in cash, a cell phone, and a metal container.
Then a raid was carried out by judicial order No. 0004-FEBRUARY-2023, in an alley of Duarte Avenue, in the Capotillo sector, where Juan Gabriel Torres García was arrested in flagrante delicto, and Dom, 216 boxes of cigarettes of different brands containing a total of 40,270 units were seized.
Likewise, 22 bales of presumed marijuana and 22 other portions of the same narcotic plant; five transparent bottles with the same plant; five portions of a pasty material, brown in color, presumably hashish; 7 portions of a sandy material, white in color, probably cocaine; two portions of a pasty material, and other two portions of a rocky material, presumably crack, were also seized.
Also, two plastic bags, each containing 38 portions of a white rocky material, presumably crack; seven bags containing 580 pills of different colors, presumably ecstasy; 4 scales, six firearm magazines; two revolvers, eight firearm capsules, ten cartridges for a 12 gauge shotgun, four bulletproof vests and two electronic weights.
They also seized an electric saw, a bandolier, four cell phones, a communication radio, a mini wireless keyboard, a plastic sealer, a LED bill checker light, two packets of gummies, five plastic cards, two USB flash drives, two packets of plastic sleeves, two Venezuelan bills: two five bolivar bills, two ten bolivar bills, two one million bolivar bills, one 50 bolivar bill, and two 500 Dominican peso bills.