Residents of Villa Linda ask Abinader to fulfill promises he made to them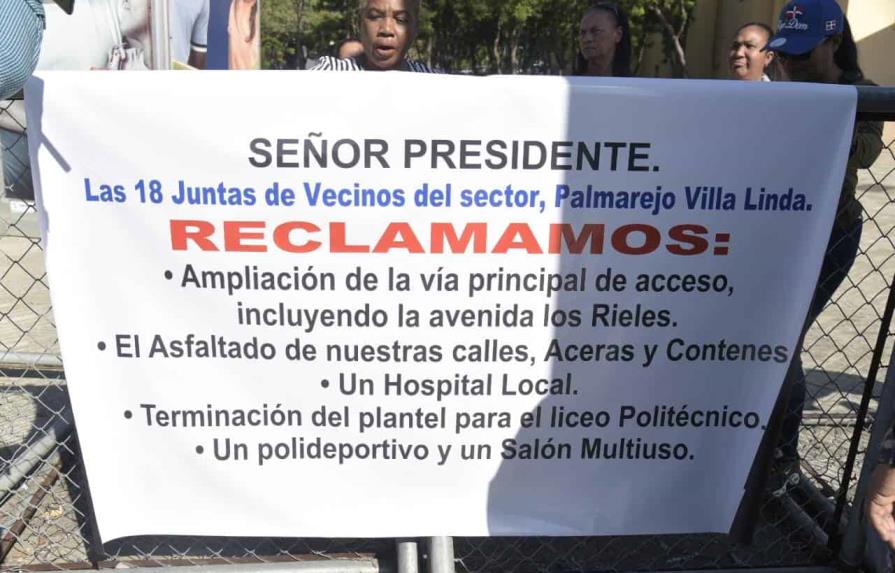 Several residents of the Palmarejo Villa Linda Municipal District in Santo Domingo Oeste appeared this morning in front of the National Palace to ask President Luis Abinader to fulfill the promises he made to them on April 23, 2022, in a meeting with neighborhood associations to begin the construction of basic works. This community requires that the main access road and other streets, as well as the sidewalks and curbs, be rebuilt and widened. They request a local hospital with an emergency room, the completion of a half-finished educational facility, a sports center, and an event multipurpose room.
Eduvirges Montero Delgado assured that only two of the municipal district's 18 sectors have sidewalks and curbs. They also lack a drinking water supply and a sewage system. The La Esperanza Soñada Neighborhood Council requested the purchase of a 20X20 meter plot of land whose owner refuses to sell in order to construct a wastewater treatment plant, as the area's drainage has collapsed, causing sewage spillage in the community.
According to Marecelina Germán, president of a neighborhood council, the president would have promised them that the sector would be intervened in two months.