Two dead and seven injured in accident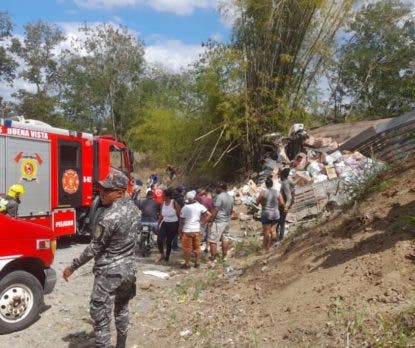 Accident on the Jarabacoa-La Vega highway.
Two people were killed and at least seven injured in a traffic accident on the Jarabacoa-La Vega highway at midday yesterday.
The deceased were identified as Patrick Germeus, 30, and Omene St Vil, 29, both Haitian nationals who lived in the La Colonia Agricola sector.
According to preliminary reports, the tragedy occurred near the Virgen Nuestra Señora de La Altagracia, in the area known as El Puerto, when a truck driver lost control of the vehicle. As a result, the lorry, returning from Jarabacoa, hit several cars on the road and a motorbike on which the two victims were traveling.
The injured in the accident were not immediately identified, but it was learned that they were taken to different medical centers in this city. Therefore, their state of health is not known at the moment.
Rescue units from the Buena Vista municipal district fire brigade, Digesett agents, National Police, and members of the Ministry of Public Works and Road Assistance, all coordinated by the National Emergency System 9-1-1, were on the scene.
Traffic accidents are pandemic in the country and cause deaths every day, which is alarming.
People: SLOW DOWN and drive more considerately, safely, and thoughtfully!