Environment seeks to attack the head of the fire in Valle Nuevo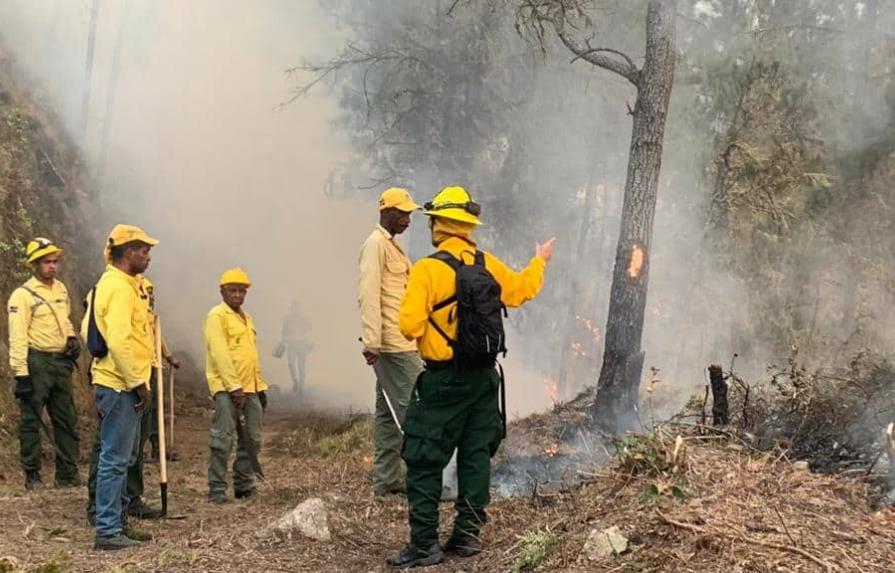 The fire that affects the Valle Nuevo National Park since Sunday morning continued and authorities from the Ministry of the Environment hope to be able to "establish the line of defense at the head of the fire" which is on its east side. The place is a protected area of the country. The government entity said that they hope to achieve the action tonight. They said that personnel from various entities work to extinguish the accident. At 6:20 p.m. in the place, we met the Forest Firefighters of La Vega, Constanza, Jarabacoa, San Juan, Guayabal, and the Park Rangers of the PNVN. 18 more forest firefighters from Restauración (Dajabón) are arriving" said Katia Gutierrez, Environmental Communications Manager.
She also stated that they carried out an aerial survey of several forest masses, which showed that in that boundary, "no fires were observed in the susceptible areas (visitation areas) in the Valle Nuevo National Park." "Except for the forest fire that the forest firefighters and park rangers are already fighting," added Gutiérrez. She indicated that the tour was carried out by Miguel Ceara Hatton, holder of the portfolio; Luis Rosario, director of the Cabinet, and José Elías González, vice-minister of Forest Resources, together with Gilberto Valdés and Jorge Ruiz, Administrative and Financial advisor to the Minister and Director of Special Projects, respectively.
Meanwhile, Nelson Bautista, a Coalition for the Defense of Protected Areas member and coordinator of the Green Action Foundation, said "The fire is not under control yet, preparations are being made, but it is not under control yet (…) all attempts are being made, it is the reality, heavy equipment is being managed for the trails and other means are being managed of control", added the environmentalist. He pointed out that, according to the reports they have, the difficulty in combating the incident has been its location, so it will be necessary to make trails to reach it.