Arajet will serve passengers affected by the bankruptcy of Viva Air Colombia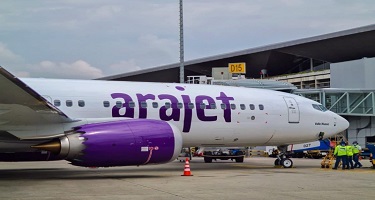 Arajet, the low-price Dominican airline regrets the news of Viva Air's cessation of operations and expresses its solidarity with the affected staff, pilots, crew, and customers. Viva Air Colombia announced earlier this week the suspension of all its operations with immediate effect, including flights to the Dominican Republic. For this reason, Arajet announces that it will be serving passengers affected by the cessation of Viva Air operations destined for the Dominican Republic, with a special rate of US$19 (plus taxes and fees) to relocate them on the first available flight to Santo Domingo.
To enjoy this benefit, Arajet invites affected passengers to send their personal information, email, contact telephone number, and active reservation in Viva Air to the email [email protected] before Friday, March 10 to fly with this special rate on the first available flight from the same routes and dates of the original reservation. Arajet connects through direct flights to Bogotá, Medellín, Cali, Cartagena, and Barranquilla with Santo Domingo.
Terms and Conditions:
This applies to booking until March 10 and traveling until March 31, 2023.
Applies for a single SMART fare flight according to the itinerary presented by the Client (round or single) for each of the affected passengers.
Personal and non-transferable protection.
Non-refundable rate and subject to the terms and conditions published on www.arajet.com