Border wall damage regretted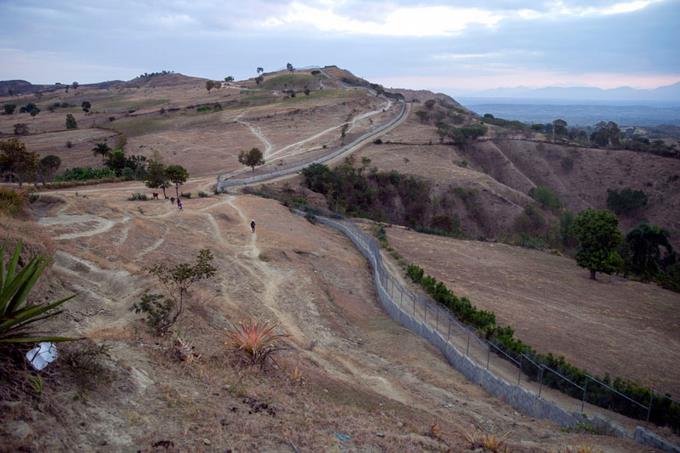 The Academy of Sciences considers that the wall on the border with Haiti is built backwards to environmental standards, especially in the part of Montecristi, putting at risk and danger the Saladilla Lagoon. File/LD
Santo Domingo, DR
The Academy of Sciences of the Dominican Republic (ACRD) announced its proposal to protect wetlands, mangroves, and areas affected by border fence construction.
Through the Natural Sciences Commission, the scientific institution warned that the damages caused by the border fence construction would be irrecoverable.
They explain that the wall on the border with Haiti is being built with its back to environmental norms, mainly partly by Montecristi, putting the Saladilla Lagoon at risk and danger.
"In the case of the Saladilla Lagoon, a Wildlife Refuge, Category IV of the International Union for Conservation of Nature, the impact of the construction of the wall, what really costs, is the elimination of the fill, that is to say, the remediation," the communiqué states.
Major damage
They add that the most significant damage is not even to the Wildlife Refuge, but to the National System of Protected Areas (SINAP), by creating a "disastrous and totally ominous precedent," which leaves defenseless or fragilely vulnerable, the Natural Heritage of all Dominicans, represented in the 128 units of the Protected Universe under a legal regime based on articles 15 and 16 of the Constitution of the Republic.
In a press release, he specified that although the construction of the wall lends itself to many readings and assessments, none of them justifies going over the heads of laws 64-00 of the Environment and 202-04 of Protected Areas, nor could they ever contradict the fact that the protected areas are patriotic, invulnerable, imprescriptible and unseizable assets.
"This team of brilliant minds, specialized in the different fields of science and knowledge, is always ready to collaborate, advise, and serve the Dominican State and its different dependencies, by mandate of the Organic Statute, the essence and Constitution of the Academy of Sciences of Nature," expressed in a communiqué released yesterday.