Man accused of poisoning donkeys will have to pay 50 thousand pesos and make periodic presentations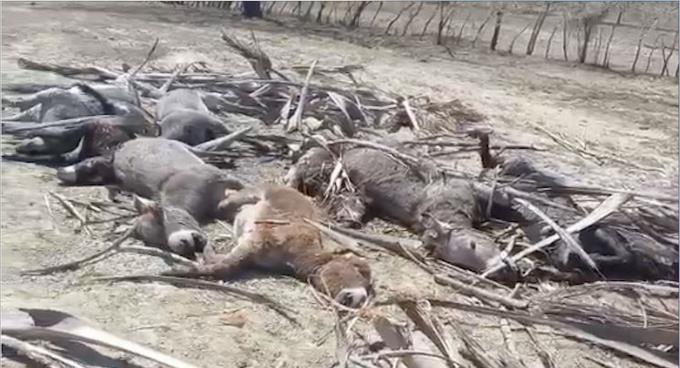 The Santiago Rodríguez Permanent Attention Judicial Office issued a measure of coercion on Monday afternoon against a man who is accused of poisoning twelve donkeys on a farm located in this province. Judge Wanda Vargas imposed an economic guarantee of 50,000 pesos and periodic presentations against Bolívar Echavarría, 60 years old, who is being investigated for the death of the animals in an event that occurred on a property located in Loma de Caimito. In a video, it is possible to observe how relatives and community members showed up in the vicinity of the Palace of Justice in support of Echavarría, who thanked the decision taken by the judge and described him, according to them, as "a man of principle and morals.".
"The fact that he was accused of this was not a reason to put him in preventive detention because hundreds of cows have been stolen here and they are not fined more than 50,000 pesos," said attorney Celestino Severino Polanco, at which time the court heard the measure. According to what was explained at first by Juanjo Álvarez, a farm collaborator, the donkeys crossed over to the man's property "and the man, without warning and without complaint, poisoned the twelve animals." "He was going to burn them and apparently he did not have time. An atrocity because it is an animal that is in danger of extinction, which is why we really breeding them, they were not for work use," added Álvarez.
In different images that circulate, it was possible to appreciate how the donkeys were stacked and covered with dry tree branches covering the crime scene. Echavarría Almonte had been deprived of liberty by members of the Central Investigation Directorate (Dicrim) for allegedly violating various articles of Law 248-12 on Animal Protection and Responsible Ownership. It should be noted that the donkey is an animal in danger of extinction as a result of modernization. It is estimated that there are only around 50 million donkeys and mules left in the world.