The pilot who died in a helicopter accident in Los Cacaos, San Cristóbal was a lieutenant colonel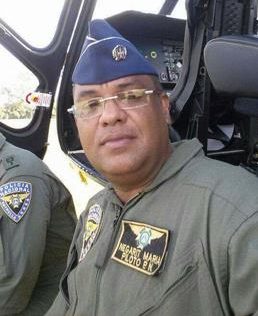 The death of the pilot who was flying a helicopter that crashed in the area of Los Cacaos, in San Cristóbal, was confirmed. Negarit María Espaillat was a lieutenant colonel of the National Police.
The Dominican Institute of Civil Aviation (IDAC) confirmed the accident of the helicopter that took off this morning from the Joaquín Balaguer International Airport, in Higüero, Santo Domingo province, bound for Port-au-Prince, Haiti.
According to a creditable source, Negarit was one of the first to pilot air ambulances, and, in addition, he was a member of the Aeroclub Dominicano, "much loved by the air community." The aircraft registration HI 951 crashed in Los Cacaos, San Cristóbal this Wednesday morning.
Search and Rescue technicians from the Civil Defense Operations Department together with members of the Air Force (FARD) and other organizations, carried out the search for the pilot. The Aviation Accident Investigation Commission (CIAA), led by pilot General Emmanuel Soufront, began investigations as soon as the incident was reported.