Authorities investigate the causes of the helicopter accident where the pilot died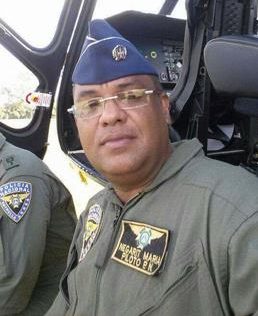 The Air Accident Investigation Commission (CIAA), of the Dominican Institute of Civil Aviation (IDAC), began the investigations to determine the causes for which a helicopter crashed to the ground yesterday morning in a rural community of San Cristóbal, an accident in which the pilot, sole occupant of the aircraft, died. According to preliminary data provided by the institution, pilot captain Andrés Negarit María Espaillat, a member of the National Police, lost his life in the accident, he was heading towards Port-au-Prince, the capital of Haiti. Nagarit was flying the Bell Textron 2066, HI951 private civilian helicopter made in the United States, which fell at 10:15 in the morning in a wooded area with difficult access in the Los Naranjos community, Los Cacaos municipality, very close to the dam of Jiguey. The aircraft had taken off from La Isabela International Airport, according to the registered flight plan.
According to data known from the accident, the last contact with the aircraft was recorded fifteen nautical miles west of El Higüero."It is still too early to affirm any cause, we already have the recordings with the El Higüero control tower in our custody, as well as the information from Santo Domingo. We also have the secured radar trace and, with these data, plus the survey that we do here, then we will start the investigation", said the director of the CIAA, pilot general Enmanuel Soufront Tamayo, when speaking to the media. 
Regarding the pilot, he said that he is a colonel of the National Police who had a commercial airline transport pilot's license and who was qualified for the operation he was carrying out. The efforts to rescue the body, led by dozens of members of the Civil Defense, firefighters, the Dominican Red Cross, and the Army, among other institutions, lasted several hours due to the inhospitable nature of the place.